Iceland's state-owned renewable energy company says it will study the feasibility of laying the world's longest submarine electric cable to Europe.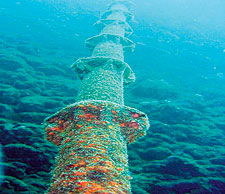 The Icelandic company Landsvirkjun said Friday it will help analyze and research the possibility of exporting energy from the island's abundant "green" geothermal resources via a high-voltage undersea cable 700-1,200 miles long.
After conducting an initial 1 1/2-year study, Chief Executive Hoerthur Arnarson said his firm would expand its research and take "the next few years" to fully investigate its potential social, environmental, legal and technical effects.
"Providing sustainable energy to Europe through a submarine power cable offers an interesting business opportunity for the nation of Iceland and at the same time presents a partial solution to Europe where they are looking for an increased supply of renewable energy," Arnarson said.
His comments came shortly after Icelandic Minister of Finance Oddny Harthardottir announced the formation of a working group to research the feasibility of laying a cable between Iceland, the British Isles or mainland Europe.
Arnarson said potential European customers are already keen to tap Iceland's clean geothermal energy to help in their decarbonization efforts and so Landsvirkjun will work with government authorities, universities, interest groups and energy and transmission companies to assess the cable's potential.
The cable project also fits in with the company's other recently announced goal — that of powering 1 percent of the European datacenter industry with electricity from renewable hydroelectric and geothermal sources by 2020.
Landsvirkjun estimates it will take 1.5 terawatt hours of electric energy to achieve the datacenter goal or around 10 percent of its current generation.
The Iceland-Europe cable is envisioned as part of a potential "supergrid" connecting Britain to the Nordic countries and mainland Europe with a series of undersea connectors to join a single continental distribution infrastructure for renewable energy and end its "energy isolation."
British Energy Minister Charles Hendry says he will visit Iceland in May to discuss the submarine cable, which at more than 1,000 miles would be by far the longest in the world and would present a monumental engineering challenge.
"We are in active discussions with the Icelandic government and they are very keen," Hendry told The Guardian.
He said that while such cables can be laid quickly they are still fraught with engineering problems since each kilometer of cable holds 800 tons of copper.
Also posing challenges would be the construction of its onshore landing sites and the huge pylons that would be needed to handle such tremendous amounts of electricity.
"It's like taking a large nuclear power station onshore," Hendry said.
Landsvirkjun says it has determined the shortest possible distance of a cable from Iceland to a landing site in Scotland is 720 miles, about double the length of the existing NorNed interconnector between Norway and the Netherlands.
A line to Germany would stretch some 1,180 miles and reach a maximum depth of about 3,300 feet.
The idea of laying such a cable has been around for years but has never been deemed economically feasible. However, higher electricity prices in Europe and increased demand for renewable energy with no or low emission of greenhouse gases may have changed the equation, company officials say.
Source: www.upi.com/Business_News/Energy-Resources/2012/04/30/Iceland-firm-to-study-green-energy-cable/UPI-17351335781800/#ixzz1thBe0VQZ