The California Supreme Court refused Wednesday to hear a challenge to a key provision of the state's landmark chemical consumer-disclosure law, Proposition 65, brought by Monsanto. The chemical maker was seeking to force California to remove glyphosate, found in the company's Roundup products, from the Proposition 65 list of carcinogens.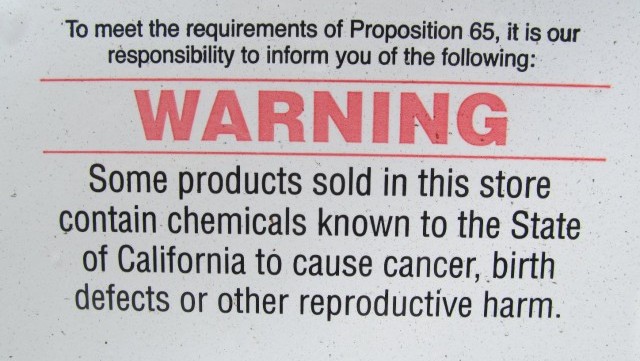 This decision leaves in place lower court decisions upholding a provision of the voter-approved initiative that allows outside expert scientific findings to be considered when adding chemicals to the public list of carcinogens.
It also follows a landmark verdict last Friday that awarded Mr. Dewayne Johnson $289 Million in damages from Monsanto. It was found that the use of Monsanto's Roundup weedkiller caused Mr. Johnson to get cancer.
Glyphosate is the most widely used pesticide in the United States and the world. It is also the most widely used pesticide in California, as measured by area of treated land. An analysis by the Center for Biological Diversity found that more than half of the glyphosate sprayed in California is applied in the state's eight most-impoverished counties.
"Monsanto doesn't have the right to decide which scientific experts are permitted to inform the public about cancer-causing chemicals. By refusing to consider this case, the Supreme Court has allowed Proposition 65 to keep working the way voters intended when the initiative was passed in 1986," said Avinash Kar, senior attorney with the Natural Resources Defense Council (NRDC).
Monsanto challenged the California Office of Environmental Health Hazard Assessment's proposal to add glyphosate to the Proposition 65 list, following a 2015 finding by the World Health Organization's International Agency for Research on Cancer (IARC) that glyphosate is a probable human carcinogen.
Glyphosate Box

Glyphosate Residue Free Certification for Food Brands – Click Here

Test Your Food and Water at Home for Glyphosate – Click Here

Test Your Hair for Glyphosate and other Pesticides – Click Here to Find Our Your Long-Term Exposure
Monsanto attacked California voters' choice to make IARC findings an independent ground for adding carcinogens to the Proposition 65 list and argued that choice was unconstitutional. The trial court rejected Monsanto's arguments and dismissed the case in 2017; the California Court of Appeal affirmed that judgment in April 2018.
"California will continue to use the best science available to make sure people in the state understand the dangers of the chemicals they use, whether the chemical companies like it or not," said Kathryn Phillips, Director of Sierra Club California.
NRDC, Sierra Club, the United Steel, Paper and Forestry, Rubber, Manufacturing, Energy, Allied Industrial and Service Workers International Union, AFL-CIO, CLC, and the Environmental Law Foundation intervened in Monsanto's lawsuit and filed a successful motion to dismiss.