U.S. Congressman Ted Lieu issued a strongly worded statement this week regarding reports that unsealed court documents raise new questions about the safety of Monsanto weed killer Roundup and its chief ingredient glyphosate.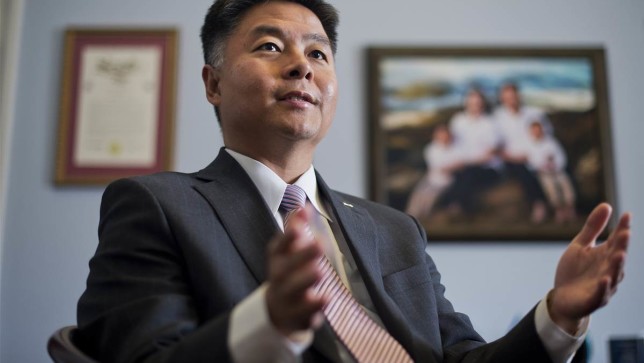 "New questions about the safety of Monsanto weed killer Roundup are deeply troubling. I worked on the glyphosate issue last term and I believe consumers should immediately stop using Roundup, whose core ingredient glyphosate has been labeled a likely carcinogen and has been linked to non-Hodgkin's lymphoma by the International Agency for Research on Cancer. We need to find out if Monsanto or the Environmental Protection Agency misled the public."
THE GLYPHOSATE BOX

Glyphosate in Popular American Foods

1o Things You Need to Know about Glyphosate

5 Things You Need to Know about Glyphosate Testing
"Reports suggest that a senior official at the EPA worked to suppress a U.S. Department of Health and Human Services review of glyphosate, and may have leaked information to Monsanto. I believe that a Department of Justice investigation is warranted to look into any potential misconduct by employees of the EPA. I also believe a congressional hearing is immediately warranted."
Earlier this week Bloomberg reported that the EPA official who was in charge of evaluating the cancer risk of Monsanto Co.'s Roundup allegedly bragged to a company executive that he deserved a medal if he could kill another agency's investigation into the herbicide's key chemical.
The boast was made during an April 2015 phone conversation, according to farmers and others who say they've been sickened by the weed killer. After leaving his job as a manager in the EPA's pesticide division last year, Jess Rowland has become a central figure in more than 20 lawsuits in the U.S. accusing the company of failing to warn consumers and regulators of the risk that its glyphosate-based herbicide can cause non-Hodgkin's lymphoma.
"If I can kill this I should get a medal," Rowland told a Monsanto regulatory affairs manager who recounted the conversation in an email to his colleagues, according to a court filing made public Tuesday. The company was seeking Rowland's help stopping an investigation of glyphosate by a separate office, the Agency for Toxic Substances and Disease Registry, that is part of the U.S. Health and Human Service Department, according to the filing. The investigation never took place!
A federal judge overseeing the glyphosate litigation in San Francisco said last month he's inclined to order Rowland to submit to questioning by lawyers for the plaintiffs, who contend he had a "highly suspicious" relationship with Monsanto. Rowland oversaw a committee that found insufficient evidence to conclude glyphosate causes cancer and quit last year shortly after his report was leaked to the press.