Multinational chemical company Bayer filed a petition with the U.S. Supreme Court this week, seeking a reversal of a lower court verdict that established Bayer liable for damages from the use of its weed killer Roundup, Beyond Pesticides reported Tuesday.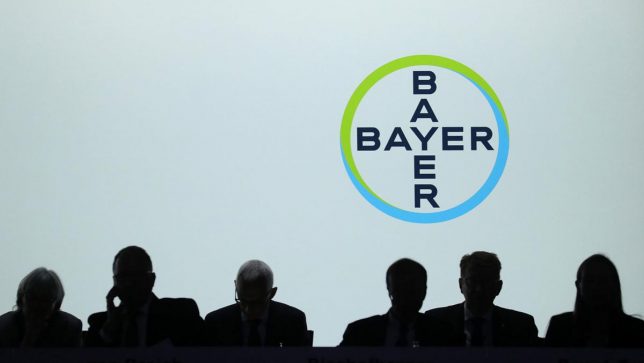 After purchasing Roundup-maker Monsanto in 2018, Bayer has been mired in a deluge of court battles from injured customers throughout the country who assert that their use of the glyphosate-based herbicide resulted in their cancer diagnosis. Bayer, for its part, has consistently lost these court cases. The company's Supreme Court petition is now regarded as its best and last chance to avert responsibility for the ongoing harm to public health caused by its carcinogenic herbicide.
Bayer's Supreme Court challenge pertains to the Hardeman v. Monsanto case. In that suit, a California court found unanimously in favor of the plaintiff, Edwin Hardeman. Mr. Hardeman told the jury he had used Roundup since the 1980s to spray poison oak and weeds around his property, resulting in his diagnosis of non-Hodgkin lymphoma in 2014. He was awarded $5.27 million, while his punitive damages were ultimately reduced from $75 to $20 million.
Bayer is bringing two main arguments to the Supreme court. First, the company is making a preemption argument, saying that U.S. federal pesticide law, the Federal Insecticide Fungicide and Rodenticide Act (FIFRA), preempts state-level "failure-to-warn" claims that act as the basis for the Hardeman suit. To prevail under California's failure-to-warn law, plaintiffs must prove that the product had knowable risks, the risks presented were substantial if used in a reasonably foreseeable manner, consumers would not have recognized those risks, defendants failed to warn consumers, and consumers were thus injured as a result.
On this issue, the U.S. Ninth Circuit Court of Appeals affirmed a lower court ruling that state failure-to-warn claims were "equivalent to" and "fully consistent with" FIFRA, and that because the company had the ability to comply with both FIFRA and California law, FIFRA did not preempt plaintiff claims. Bayer's argument to the Supreme Court rests upon the cover that the U.S. Environmental Protection Agency provided the company over the years. Bayer argues that because EPA did not approve labels with a cancer warning, and the agency has repeatedly said that such a label was not appropriate, failure-to-warn claims should not apply.
Bayer's second argument centers around the Ninth Circuit's admission of expert testimony, which the company says violates court precedent and federal rules. The Ninth Circuit held that a district court applied the correct standards in admitting expert testimony in the Hardeman case. This issue centers significantly around causation experts use of epidemiological evidence, a strong and growing body of literature linking glyphosate to cancer which EPA and pesticide manufacturers have regularly discounted.
In apparent attempts to calm the market, the company has gamed out scenarios where it does and doesn't win at the Supreme Court. Prior to the filing the petition, Bayer announced that it would end sales of Roundup to residential consumers, as part of a "five-point" planned aimed solely at averting litigation risk – not in order to protect U.S. residents from its hazardous product.
Mr. Hardeman's lawyers told U.S. Right to Know (USRTK) they were prepared for this fight. "While paying out billions of dollars to settle claims, Monsanto continues to refuse to pay Mr. Hardeman's verdict. That doesn't seem fair to Mr. Hardeman. Even so, this is Monsanto's last chance Hail Mary," attorney Aimee Wagstaff told USRTK. "We are eager and ready to beat Monsanto at the Supreme Court and put this baseless preemption defense behind us once and for all."
Bayers purchase of Monsanto has been characterized as "One of the Worst Corporate Deals" in recent times by the Wall Street Journal. Its first major loss centered around California school groundskeeper Dewayne "Lee" Johnson, who won an initial $289 million jury verdict against Monsanto in 2018 for his development of non-Hodgkin lymphoma (NHL) after exposure to Roundup. The first $39 million was awarded for compensation, while $250 million in punitive damages came after a finding that Monsanto acted with "malice or oppression" by suppressing the link between its product and cancer. That amount was later amended by a judge to $78 million. In addition to the Hardeman case now up for Supreme Court consideration, earlier this month Bayer lost its third appeal in its third major glyphosate trial, involving the Pilliods, a California couple that had used Roundup for more than 30 years to kill weeds on properties they owned. The couple was originally awarded a staggering $2.055 billion by a jury in 2019, which was ultimately reduced to $86 million. A California appeals court ruling on August 10 upheld the award amount.
Reacting to the appeals court ruling, R. Brent Wisner, Co-Lead Trial Counsel for Johnson v. Monsanto and Pilliod et al., v. Monsanto, stated; "Monsanto-Bayer has now lost every appeal, and for good reason. The trials were based on good law and good science. The California Court of Appeal fully affirmed the Pilliod verdict. It rejected Monsanto's request for immunity based on federal preemption and upheld the historic $86.7 million judgment, which included punitive damages. The Court confirmed that there was substantial evidence that Monsanto 'acted with a willful and conscious disregard for the safety of others in its efforts to shape the scientific inquiry into glyphosate and Roundup,' and that Monsanto's conduct was 'reprehensible.' This is a major triumph for the Pilliods and plaintiffs everywhere. Monsanto needs to pull its head out of the sand and Roundup off the shelves now."
While the company has been able to cut back large jury awards to victims, it has been ineffective at stopping the claims from winning on the merits. This is because, despite claims from captured regulatory agencies like EPA, there is a strong body of evidence linking glyphosate and its formulated products to cancer. And significant evidence that the company worked to keep that information under wraps. Over the last four years, the U.S. Environmental Protection Agency and U.S. Department of Agriculture have worked to provide cover for Bayer/Monsanto by reregistering Roundup and other glyphosate-based products, intervening in court cases, and coordinating with the company to stop glyphosate bans in other countries.
Bayer, as of June, had settled 125,000 claims for $9.6 billion with people who link their non-Hodgkin lymphoma to use of Roundup. There are still 30,000 cases that have not been resolved. Advocates are hoping that the Supreme Court will reject the company's petition so that the full repercussions of the harm caused by Bayer and Monsanto can be realized.
Looming large over the entire saga around Roundup in the courts is the fact that a court case should never have been necessary. EPA is responsible for protecting the public from unnecessary and unreasonable harm caused by toxic pesticide exposure. But the agency's corruption spans administrations and is independent of any one political party.  It's time for the agency to stop allowing the pesticide industry free rein to regulate itself, and place economic concerns over the health and wellbeing of people and the environment.