A year ago Thailand was set to ban the widely used weed killing chemical glyphosate, a move applauded by public health advocates because of evidence the chemical causes cancer, along with other harms to people and the environment, USRTK reported Thursday.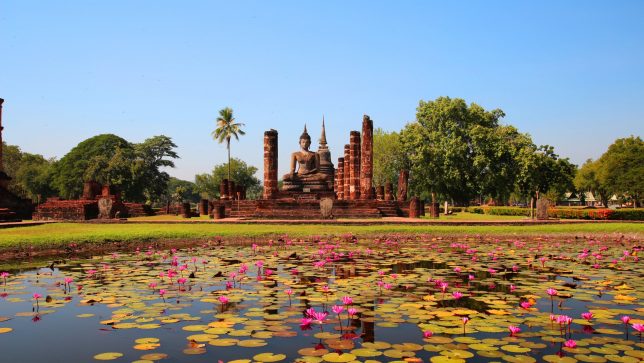 Source: USRTK By Carey Gillam
But under heavy pressure from U.S. officials, Thailand's government reversed the planned ban on glyphosate last November and delayed imposing bans on two other agricultural pesticides despite the fact that the country's National Hazardous Substances Committee said a ban was necessary to protect consumers.
A ban, particularly on glyphosate, would "severely impact" Thai imports of soybeans, wheat and other agricultural commodities, U.S. Department of Agriculture Undersecretary Ted McKinney warned Thailand Prime Minister Prayuth Chan-Ocha in pushing for the reversal. Imports could be impacted because those commodities, and many others, typically are laced with residues of glyphosate.
Now, newly revealed emails between government officials and Monsanto parent Bayer AG show that McKinney's actions, and those taken by other U.S. government officials to convince Thailand not to ban glyphosate, were largely scripted and pushed by Bayer.
Glyphosate Box

Glyphosate Residue Free Certification for Food Brands – Click Here

Test Your Food and Water at Home for Glyphosate – Click Here

Test Your Hair for Glyphosate and other Pesticides – Click Here to Find Out Your Long-Term Exposure
The emails were obtained through a Freedom of Information Act request by the Center for Biological Diversity, a nonprofit conservation organization. The group sued the U.S. Department of Agriculture (USDA) and the U.S. Department of Commerce on Wednesday seeking additional public records regarding the actions of the departments of trade and agriculture in pressuring Thailand on the glyphosate issue. There are several documents the government has thus far refused to release regarding communications with Bayer and other companies, the organization said.
"It's bad enough that this administration has ignored independent science to blindly support Bayer's self-serving assertions of glyphosate's safety," said Nathan Donley, a senior scientist at the Center for Biological Diversity. "But to then act as Bayer's agent to pressure other countries to adopt that position is outrageous."
Glyphosate is the active ingredient in Roundup herbicides and other brands developed by Monsanto, which are worth billions of dollars in annual sales. Bayer bought Monsanto in 2018 and has been struggling ever since to suppress mounting global concerns about scientific research showing that glyphosate herbicides can cause a blood cancer called non-Hodgkin lymphoma. The company is also fighting off lawsuits involving more than 100,000 plaintiffs who claim their development of non-Hodgkin lymphoma was caused by exposure to Roundup and other Monsanto glyphosate-based herbicides.
Glyphosate weed killers are the most widely used herbicides in the world, in large part because Monsanto developed genetically engineered crops that tolerate being sprayed directly with the chemical. Though useful to farmers in keeping fields free of weeds, the practice of spraying herbicide over the tops of growing crops leaves varying levels of the pesticide in both raw grain and finished foods. Monsanto and U.S. regulators maintain pesticide levels in food and livestock feed are not harmful to humans or livestock, but many scientists disagree and say even trace amounts can be dangerous.
Different countries set different legal levels for what they determine to be safe amounts of the weed killer in food and raw commodities. Those "maximum residue levels" are referred to as MRLs. The U.S. allows the highest MRLs of glyphosate in food when compared to other countries.
If Thailand banned glyphosate, the allowed level of glyphosate in food likely would be zero, Bayer warned U.S. officials.
High-level help
The emails show that in September 2019 and again in early October of 2019 James Travis, senior director for Bayer international government affairs and trade, sought assistance in reversing the glyphosate ban from multiple high-level officials from the USDA and the Office of the United States Trade Representative (USTR).
Among those Bayer sought aid from was Zhulieta Willbrand, who at that time was chief of staff of trade and foreign agricultural affairs at the U.S. Department of Agriculture.  After Thailand's decision to reverse the ban on glyphosate, Willbrand was hired to work directly for Bayer on international trade matters.
When asked if the assistance from Willbrand while she was a government official helped her get a job at Bayer, the company said that it "ethically strives" to hire people from "all backgrounds" and any "inference that she was hired for any reason other than the immense talent she brings to Bayer is false."
In an email to Willbrand dated Sept. 18, 2019, Travis told her Bayer thought there was "real value" for U.S. government engagement on the glyphosate ban, and he noted that Bayer was organizing other groups to protest the ban as well.
"On our end, we are educating farmer groups, plantations and business partners so that they too can articulate concerns and the need for a rigorous, science based process," Travis wrote to Willbrand. Willbrand then forwarded the email to McKinney, the USDA's Under Secretary for Trade and Foreign Agricultural Affairs.
In an Oct. 8, 2019, email string with the subject line "Summary of Thailand Ban – Developments Moving Quickly," Travis wrote to Marta Prado, deputy assistant U.S. Trade Representative for Southeast Asia and the Pacific, copying Willbrand and others, to update them on the situation.
Travis wrote that Thailand looked poised to ban glyphosate at a "dramatically" accelerated pace, by December 1, 2019. Along with glyphosate, the country was planning to also ban chlorpyrifos, an insecticide made popular by Dow Chemical that is known to damage babies' brains; and paraquat, a herbicide scientists say causes the nervous system disease known as Parkinson's.
Travis pointed out the risk a glyphosate ban would pose to sales of U.S. commodities because of the MRL issue and provided other background material the officials could use to engage with Thailand.
"In light of recent developments, we are growing more concerned that some policymakers and lawmakers are rushing the process and will not thoroughly consult all farming stakeholders nor fully consider the economic and environmental impact of banning glyphosate," Travis wrote to the U.S. officials.
The email exchanges show that Bayer and U.S. officials discussed potential personal motivations of Thai officials and how such intelligence could be useful. "Knowing what motivates her may help with USG counter arguments," one U.S. official wrote to Bayer about one Thai leader.
Travis suggested that U.S. officials engage much as they had with Vietnam when that country moved in April 2019 to ban glyphosate.
Shortly after the appeal from Bayer, McKinney wrote to the Thailand Prime Minister about the matter. In an Oct. 17, 2019 letter McKinney, who previously worked for Dow Agrosciences, invited Thailand officials to Washington for an in-person discussion about glyphosate safety and the Environmental Protection Agency's determination that glyphosate "poses no meaningful risk to human health when used as authorized."
"Should a ban be implemented it would severely impact Thailand's imports of agricultural commodities such as soybean and wheat," McKinney wrote. "I urge you to delay a decision on glyphosate until we can arrange an opportunity for U.S. technical experts to share the most relevant information to address Thailand's concerns."
A little more than a month later, on Nov. 27, Thailand reversed the planned glyphosate ban. It also said it would delay bans on paraquat and chlorpyrifos for several months.
Thailand did finalize bans of paraquat and chlorpyrifos on June 1, of this year. But glyphosate remains in use. 
When asked about its engagement with U.S. officials on the issue, Bayer issued the following statement:
"Like many companies and organizations operating in highly regulated industries, we provide information and contribute to science-based policymaking and regulatory processes. Our engagements with all those in the public sector are routine, professional, and consistent with all laws and regulations.
The Thai authorities' reversal of the ban on glyphosate is consistent with the science-based determinations by regulatory bodies around the world, including in the United States, Europe, Germany, Australia, Korea, Canada, New Zealand, Japan and elsewhere that have repeatedly concluded that our glyphosate-based products can be used safely as directed.
 Thai farmers have used glyphosate safely and successfully for decades to produce essential crops including cassava, corn, sugar cane, fruits, oil palm, and rubber. Glyphosate has helped farmers to improve their livelihoods and meet community expectations of safe, affordable food that is produced sustainably."