Over 100 consumer and environmental groups delivered letters to Lowe's  and Home Depot  last week, urging the retailers to protect pollinators, human health and the environment by ending the sale of toxic weedkiller Roundup and other glyphosate-based products.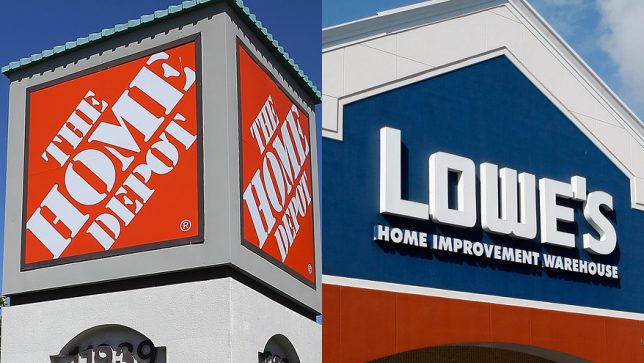 The letter was part of a Valentine-themed week of action in which activists delivered messages to store managers and took to social media to urge the companies to "show us love and #RejectRoundup". Ads were also placed in Atlanta Journal-Constitution and the Charlotte Observer in the headquarters cities of the companies.
This national week of action (February 8th-14th) is a part of an ongoing campaign led by a coalition of environmental and consumer organizations, including Friends of the Earth, SumOfUs, Center for Food Safety, Beyond Pesticides, Green America, Herbicide-Free Campus, Toxic Free North Carolina, and Kids Right to Know. As the largest home and garden retailers in the U.S., Lowe's and Home Depot can play a huge role in ending the use of this toxic weedkiller in our backyards and across the country. The coalition delivered over 157,000 petition signatures to the companies in 2020.
"Home Depot and Lowe's can make a significant difference in reducing the use of this toxic weedkiller," said Kendra Klein, Senior Staff Scientist at Friends of the Earth. "Research shows that homeowners use up to 10 times more chemical pesticides per acre on their lawns than farmers use on crops. It's reckless to sell consumers products linked to cancer and pollinator declines when safer organic alternatives exist. These retailers must build on their earlier commitments to phase out bee-killing neonicotinoid pesticides by taking decisive action on glyphosate."
"Lowe's and Home Depot are well-aware of the research that shows glyphosate is linked to an increased risk of cancer. And yet these dangerous pesticides still line their shelves," said Lacey Kohlmoos, U.S. Campaign Manager at SumOfUs. "It is time for the two largest hardware store chains in the world to show they care about their customers' well-being and stop selling products containing glyphosate."
Glyphosate Box

Glyphosate Residue Free Certification for Food Brands – Click Here

Test Your Food and Water at Home for Glyphosate – Click Here

Test Your Hair for Glyphosate and other Pesticides – Click Here to Find Our Your Long-Term Exposure
"The youngest members of our communities — children who play outside — and essential workers of our communities — landscapers and groundskeepers — are those most at risk to the carcinogenic impacts of Glyphosate," stated Katelyn Mann of Herbicide Free Campus. "It is imperative that companies such as Home Depot and Lowe's prioritize public health with their product sales, especially as they focus on home gardeners who usually do not have the training and awareness necessary to avoid the health risks of Glyphosate-based products. We are calling on Home Depot and Lowe's to take precautionary measures to protect public health by stopping the sale of Roundup and other Glyphosate based products.
"Consumers want glyphosate out of pollinator habitats and waterways, away from their families and pets, and off the shelves," said Green America's Food Campaigns Director Jes Walton. "It's time for Home Depot and Lowes to wake up and see that this dangerous chemical is bad for business and the communities they serve."
"Organic products and practices can address weed and pest problems while ensuring people, pets, and pollinators are not harmed by toxic chemicals. We urge Lowe's and Home Depot to stop stocking toxic pesticides like glyphosate in favor of this safer, natural approach," explained Drew Toher, Community Resource and Policy Director for Beyond Pesticides. 
"It's time for corporations like Lowe's and Home Depot to stand up and take responsibility for their actions and the wellbeing of their customers. They know of the expansive research that links glyphosate to cancer and yet regardless of the consequences they continue to sell it to unsuspecting customers who spray around their homes; areas that pets walk through and children walk barefoot in. With so many organic and non-toxic options available it's time for change, because poisoning people in the name of profits is simply not acceptable," said Rachel Parent, Founder of Kids Right to Know.
The main chemical ingredient in Roundup – glyphosate – is the most widely used pesticide in the world. Glyphosate is a probable human carcinogen. Research has linked glyphosate to high rates of kidney disease in farming communities and to shortened pregnancy in a cohort of women in the Midwest. Animal studies and bioassays link it to endocrine disruption, DNA damage, decreased sperm function, disruption of the gut microbiome, and fatty liver disease.
After a spate of high profile lawsuits linking plaintiffs' cancer to glyphosate exposure, manufacturer Bayer agreed to pay $10.9 billion to settle an additional 95,000 cases out of court. Under the terms of the agreements, Roundup would continue to be sold for use on yards, school grounds, public parks, and farms without any safety warning.
Glyphosate is also linked to environmental damage. The EPA warns that glyphosate can injure or kill 93% of U.S. endangered species. It is a primary driver of the decimation of monarch butterfly populations because it destroys the milkweed plants their young depend on. Recent research has also shown that glyphosate can disrupt honeybee gut microbiomes, affect larval development, increase colony vulnerability to pathogen infestation, reduce productivity, and impair honeybee navigation, linking the herbicide to declines in bee populations.