Sustainable Pulse interview with Christine Fitzgerald, Owner of SmartVine, the first ever Glyphosate Residue Free certified wine.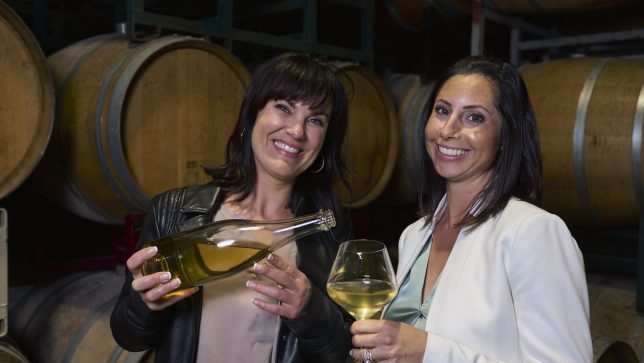 When did your company start to produce wine and what was your inspiration to launch SmartVine?
My company started producing wine in 2018, with our first orders going out in October.
My background in health and fitness drove this brand launch. As a nutritionist for the past 20 years, I quickly noticed that my clients loved their wine, and they couldn't be told to give it up… no matter what! The problem was that it was screwing up their diet.
I started wondering if there was a way to enhance the good stuff within wine, avoid the bad, and add a little proven beneficial kick with specific herbs. This idea led to SmartVine.
Using my knowledge of nutrition science I began formulating wine combinations with herb infusions. My business partner Chrystal understood formulating wine without the use of herbicides, pesticides, and insecticides, and using more of a natural, old-world style to make wine.
After 6 months of research and experimentation, we finally discovered the perfect iteration of SmartVine; blending clean, chemical free wine that tasted amazing and was better for you.
Where are the vineyards that your wine is produced from? Santa Barbara County.
Why are toxic chemicals an issue for the wine industry? Traditional winemaking never included added chemicals. Now, there are over 200 known chemicals found in wines. Unfortunately, this is the new normal. Winemakers have cut corners by adding chemicals to speed up the wine making process. Plus, more and more sugar is being added to increase alcohol content.
If a wine is termed "natural" does that mean it's better for consumers? All natural wines are NOT the same. It depends on how the grapes are grown and how the wine is created. Wine can be made from "organic" grapes or have a sustainable background, but the REAL issue boils down to WHAT is happening in the cellar. Winemakers and wineries do not have to disclose all the chemicals that they use to filter and finalize the wine. For example, we will never use ingredients like Velcorin, while others will.
Do you think the U.S. wine industry has more of a problem with pesticides than wine industries elsewhere in the world? Yes. We have a greater allowance of what we consider ok for consumption vs other places in the world.
Why did you decide to go through the Glyphosate Residue Free certification process?
When we started this project, we focused on certified organic vineyards and biodynamic vineyards to source our wines. Unfortunately, we found out that after evaluating the levels of Glyphosate (a.k.a. the weed killer Roundup), it could potentially still be in the grapes.
Although these vineyards were not actively using Glyphosate, they still had amounts of the chemical in the wine above the approved levels of consumption. Put simply, this shocked us. We began our mission to find the PUREST grapes, making it our goal to find wine that did not contains traces of Glyphosate.
Glyphosate is a chemical that is a known carcinogen and has also been shown to disrupt gut bacteria and overall health. This leads to obesity, diabetes, brain diseases, inflammation, you name it. We did not want even trace amounts of that chemical in our product. As a nutritionist, I would not feel good recommending our product if I knew that glyphosate was present in it.
What do you think are some points that will guide the future of the wine industry in the U.S.?
I hope that winemaking will continue to evolve back to how it was done centuries ago, without the use of chemicals and added sugars. I think money talks, and as consumers become more and more educated on the health benefits and risks of certain products and ingredients, they'll buy what they feel is the best choice. I hope this will steer the wine business in a more positive direction.
How will SmartVine differentiate itself from the thousands of wines already produced in your region?
Smartvine is the first and only wine to begin with being certified vegan and glyphosate free. Our California grapes have been lab-tested, and hand picked and then infused with four botanical herbs that don't change the flavor of the wine or leave a sediment.
We believe that you can have your wine and your health too. There's no need to sacrifice taste, how you feel the morning after, or your workout routine. Consumers no longer have to a marathon to "earn" their glass of wine!
Is this a new idea? Why hasn't anyone done this before?
Wine enhanced with herbs has been around for tens of thousands of years. The concept of wine used for medicinal methods is a part of our human history. Over time, our pallets have changed and high alcohol beverages like gin or vodka became the carrier for the medicinal herbs. Wine evolved into a more refined beverage (think white bread vs whole wheat bread). The one area of the wine world that continued the idea of herbs blended with a wine base is vermouth.
We applied ancient herbal wine traditions with modern winemaking. We felt it was time to borrow from the past, eliminate 21st century toxins, and create something truly delicious, elevated, and better for your body and planet.
Where can the public purchase a bottle of SmartVine? www.Smartvinewine.com; we have a great referral program and added healthy and fun gifts when you place an order.