Anresco Laboratories in San Francisco has launched unique low detection testing program for glyphosate residues in final food products and soil samples from all over the World. The unique glyphosate testing, which uses a regulatory recognized LC/MS/MS method, is available to both NGOs and commercial companies.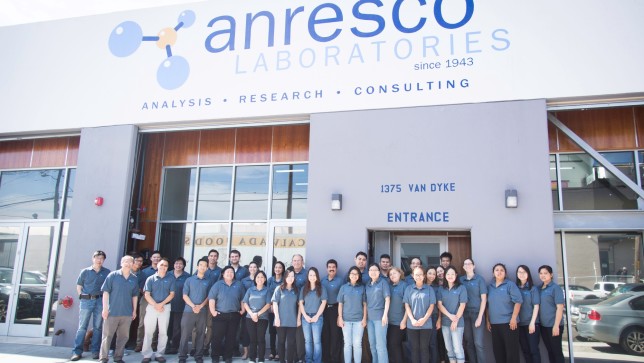 Anresco Laboratories, working in coordination with The Detox Project, has started a new era of transparent, accurate and affordable glyphosate testing, which enables consumers to find out the truth about the levels of glyphosate in their food.
High detection (20 parts per billion 'ppb' and above) glyphosate testing has been available to the food industry in the U.S. for many years, however, the chemical is hardly ever tested for in our food despite being the World's most used herbicide.
"Regulatory recognized methods for glyphosate testing have been available to the food industry for the past 20 years, however Anresco Laboratories has now opened the door to a new transparent World for consumers!," Henry Rowlands, Director of The Detox Project and Sustainable Pulse, stated Thursday.
IMPORTANT TIPS WHEN TESTING GLYPHOSATE WITH A LAB:

a) Make sure the lab uses the regulatory recognized LC/MS/MS method not ELISA.

b) Make sure the lab is ISO certified not just working to ISO standards.
The Laboratory
Anresco Laboratories was founded by Dr. Sylvan Eisenberg in 1943, with the goal of ensuring food quality. Their food safety analyses span a variety of areas, including Pesticides, Microbiology and Nutritional Labeling. Since 1980, Anresco has been focused on pesticide and herbicide testing. They perform routine testing on imported samples detained by the FDA, samples to be exported, as well as domestic samples for many major US companies. In addition to foods, they have also tested herbal products, water and soil.
LC/MS/MS is the method used for testing for glyphosate levels in food products. LC/MS/MS stands for liquid chromatography tandem mass spectrometry, which "has been well recognized by regulators and scientists worldwide as the "gold standard" for both quantification and semi-quantitative screening of food contaminants, such as pesticide residues."
The laboratory is an independent, ISO-17025 accredited, FDA-registered private laboratory headquartered in San Francisco, U.S.A.
Anresco Laboratories Co-laboratory Director Vu Lam says, "We use LC/MS/MS to detect Glyphosate and AMPA. With our modifications to various methods, we are able to detect many levels of contaminants in food products at levels as low as 5 ppb, and even lower."
THE GLYPHOSATE BOX

1o Things You Need to Know about Glyphosate

5 Things You Need to Know about Glyphosate Testing
Method for Food Testing
The sample is extracted using water and methanol. Extract is further cleaned and concentrated on an ion-exchange column. The extract is then derivatized using 9-fluorenylmethylchloroformate and filtered prior to LC-MS/MS analysis. Derivatized glyphosate and its metabolite AMPA are injected onto the LC-MS/MS and separated using a C18 column with a gradient elution of ammonium acetate buffer and acetonitrile as mobile phases. Ionization is achieved using an electrospray ionization source operating in negative mode. Analytes are detected using multiple reaction monitoring with isotopically-labeled analytes as internal standards. This method allows detection and quantification down to 2 ng/g (ppb) for food and soil samples with recoveries between 70-90%.
LC/MS/MS testing is the best method currently available for glyphosate testing in food, soils, urine and water – please see more information on this here. Other methods that do not use mass spectrometry are not recognized by regulators worldwide.
Anca-Maria Tugulea, a chemist in the Exposure and Biomonitoring Division of Health Canada stated: "ELISA has high false positive and false negative results…. It is usually used as a screening tool and any positive results will have to be confirmed by a chromatographic (e.g. LC/MS/MS) method to be usable in risk assessment."
Contact [email protected] for more information!