Bayer AG, the German multinational pharmaceutical and life sciences company, is in panic after a huge share sell off on Monday morning, following the decision from a landmark legal case in San Francisco, which judged that the glyphosate-based weedkiller Roundup causes cancer.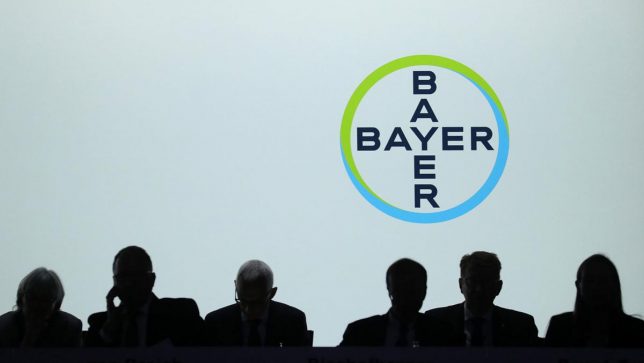 $ 12.5 Billion (12%) was wiped off Bayer's share price in Monday trading and the slide looks set to continue.
The German company's newly acquired Monsanto subsidiary was left in shock Friday after they lost a landmark cancer trial in San Francisco and was ordered by the Judge to pay over USD 289 Million in total damages to the former school groundskeeper Dewayne Johnson, a California father who has non-Hodgkin's lymphoma, which was caused by Monsanto's glyphosate-based weedkiller Roundup.
Johnson, a father of three and former school groundskeeper, who doctors say may have just months to live, was the first person to take Monsanto to trial over allegations that the chemical sold under the Roundup brand causes cancer. About 4,000 other people in the U.S. claim in lawsuits they were sickened by Roundup.
Johnson's attorneys said he was diagnosed with non-Hodgkins Lymphoma after spraying the glyphosate-based Roundup weed killer for two and a half years.
Glyphosate Box

Glyphosate Residue Free Certification for Food Brands – Click Here

Test Your Food and Water at Home for Glyphosate – Click Here

Test Your Hair for Glyphosate and other Pesticides – Click Here to Find Our Your Long-Term Exposure
Monsanto is responsible for Dewayne "Lee" Johnson's illness, suffering and reduced life expectancy because of the cancer-causing nature of its product, glyphosate-based weedkiller Roundup, the San Francisco Superior Court jury determined on Friday. The jury deliberated for three days after a four-week trial.
The damages included $2.3 million in economic losses, $37 million for pain and emotional distress and $250 million in punitive damages. The punitive damages were based on the jury's unanimous finding that Monsanto had "acted with malice or oppression" toward Johnson.
Johnson has undergone chemotherapy and is considering a bone-marrow transplant. One of his doctors testified that Johnson is unlikely to survive until 2020.