The U.S. Environmental Protection Agency (EPA) must finalize its proposed ban on chlorpyrifos, a pesticide linked to learning disabilities in children, from use on produce sold in the U.S. within 60 days, the 9th Circuit Court of Appeals ruled Thursday.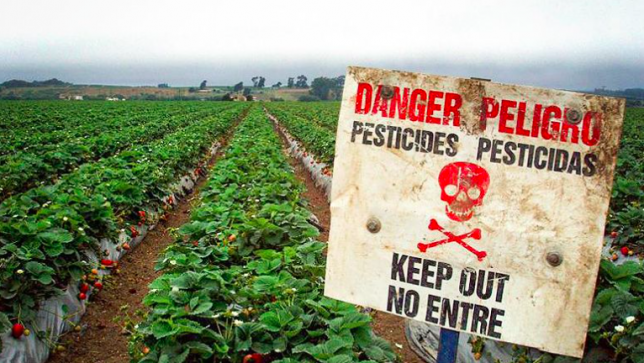 The judges found the agency broke the law by continuing to allow the toxic chemical to be used on fruits and vegetables despite solid science, including from EPA's own scientists, showing it harms the developing brain.
The ruling comes in a lawsuit brought by the Natural Resources Defense Council (NRDC) as part of a coalition of labor and health organizations, represented by Earthjustice. The decision can be found here.
Erik Olson, Senior Director of Health and Food at the Natural Resources Defense Council stated; "Some things are too sacred to play politics with—and our kids top the list. The court has made it clear that children's health must come before powerful polluters. This is a victory for parents everywhere who want to feed their kids fruits and veggies without fear it's harming their brains or poisoning communities."
NEW TECHNOLOGY:

New: Glyphosate strip tests for testing food and water at home!

New: Hair testing – Pesticides including chlorpyrifos and glyphosate – find out your long-term exposure!
Background:
NRDC has been fighting for more than a decade to get chlorpyrifos out of our food supply, petitioning EPA to ban it in 2007 with the Pesticide Action Network. EPA was finally on track to ban it at the end of 2016. Shortly after taking office, however, the Trump administration reversed course—allowing it to continue being sprayed all over numerous U.S. food crops, including kid favorites like apples, oranges and berries.
Significant science—including from EPA itself—shows that exposure to low levels of the pesticide in early life can lead to increased risk of learning disabilities, including reductions in IQ, developmental delay and ADHD.
Dow Chemical—the nation's largest manufacturer of chlorpyrifos—has close ties to the President. Among other things, the company reportedly donated $1 million for Trump's inauguration and its CEO previously played a chief advisory role to the president, heading up his now defunct "American Manufacturing Council."
In the absence of EPA action, states are starting to stand up. In June, Hawaii became the first state to ban the chemical. And at the end of July, California released a scientific study reaffirming health concerns about the chemical and setting the stage for extensive restrictions. Legislation is also pending in Congress to ban chlorpyrifos and similar pesticides nationwide.
For more information, go to: www.nrdc.org/chlorpyrifos.