China's Ministry of Finance has caused waves in the country's agricultural circles after announcing on Thursday that it will make sure no genetically modified (GM) oil is used in the canteens of Ministry workers. This comes after an order from the Ex Chinese Minister of Finance, Xie Xuren, in 2013 to safeguard the health of the Ministry's staff.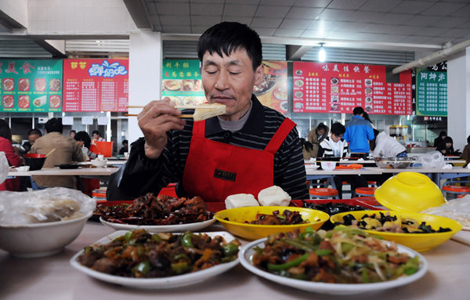 The new announcement relating health safety to GM oil is seen by experts as another sign of a new approach in the country towards GM crops caused by mounting public pressure on the issue.
This is not the first Ministry in China to warn its staff over GMOs, with the Ministry of Education having already put up a notice within their HQ stating "Our Canteen Does Not Use Food Containing GM".
"The issue of whether GM food is harmful to human health is currently without consensus within academia. GM food has only appeared [in China] for a short period making it very difficult at present to appropriately assess its impact on long-term safety. Further research and longer time is required for verification. To eliminate the concerns of diners, and to assure the safety and health of our staff members, our Ministry of Education Office Canteen temporarily will not use food oil containing GM ingredients and GM food materials. Please enjoy your food without any such concern," the notice continues.
The Ministry of Finance announcement is however unique, as it is presented as an official position of the Ministry, whereas the Ministry of Education notice was not.
The Full Chinese Finance Ministry announcement can be found here in Chinese

Sustainable Pulse would like to thank the Chen I-wan blog: t.cn/8FQmkI4 for information on this story
China has been at the heart of a worldwide GMO trade controversy involving Syngenta's GMO corn trait over the last few months and the new Ministry of Finance announcement has put many biotech companies on red alert.
Just this week two of the World's largest exporters of GM crops, Cargill and Bunge, announced that they would no longer accept GM maize that contained Syngenta's AG GM corn trait over Chinese trade difficulties, which have led to over 600,000 metric tons of US corn being rejected at Chinese ports.
Many biotech companies fear that this new strong arm approach to GM crops by Chinese authorities will spread beyond Syngenta. Monsanto even sent CEO Hugh Grant to China, for high level meetings on this issue with the Ministry of Agriculture, Ministry of Science and Technology, and Ministry of Commerce in the week before Christmas.
Despite this seemingly new approach China is already the world's biggest buyer of GM soybeans and also the largest grower of GM cotton, so GMO Free activists in the country still have much work to do.