Monsanto is currently on a well hidden worldwide winter offensive with their main targets including India, China and Russia, as they aim to open up new money spinning frontiers.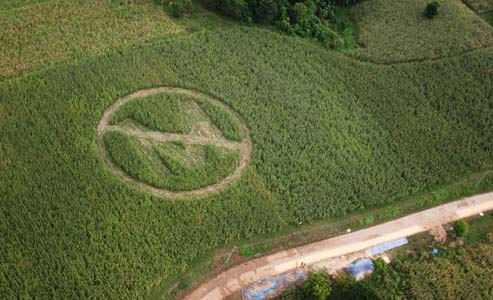 China: Monsanto CEO Makes Emergency Visit (Sustainable Pulse Exclusive)
According to Sustainable Pulse sources in China, Monsanto's CEO Hugh Grant held high level meetings with the Chinese Ministry of Agriculture, Ministry of Science and Technology, and Ministry of Commerce in the week before Christmas.
These meetings allegedly involved discussions, which aimed to alleviate the current panic amongst some of Monsanto's main supporters in the US, who are worried that some Monsanto strains of corn will soon be refused by China, alongside the 545,000 metric tons of U.S. corn that have been refused so far this year in cargoes that contained Syngenta's MIR162 strain.
Grant was also allegedly trying to quell fears amongst Chinese authorities over the illegal smuggling of Monsanto corn seeds into China on a very large scale.
Russia:  Door Unlocked for Biotech Industry (Sustainable Pulse Exclusive)
Despite suggestions from the Russian government earlier in 2013 that a full moratorium would be placed on GM crops and possibly all products containing GMOs, they seem to have now opened a door to the biotech industry with a new decree, allowing for the 'state registration' of both GM crops and GMO products, which will come in to force in June 2014.
On December 25 a group of Russian experts including representatives of scientific, social and environmental organizations sent an open letter to Russian President Vladimir Putin calling for him personally to cancel the controversial decree.
After a round table meeting, called 'Is Russia ready to accept GMOs?', the Russian experts called on Putin to introduce temporary restrictions on the cultivation of GMOs in Russian fields until there is clear evidence of their biological and ecological security.
Elena Sharoykina, Director of the National Association for Genetic Safety (NAGS) stated; "In September, Vladimir Putin said that there needs to be tight control over the circulation of GMOs until the introduction of a total ban, and then I was hoping that our appeal to declare Russia free of GMOs would be heard. But the Government Resolution № 839 destroyed all hope, which is a sad outcome for environmental protection in Russia. But, nevertheless, we still have a few months to stop the sowing of GM Crops in Russia. The health, safety and food sovereignty of the country is at stake."
India: New Environment Minister is Pro GM Crops
After a massive push by Monsanto in India they seem to have managed to create a political U-turn there too. We wonder how?
On Friday Monsanto India's shares shot up over 14% on the back of reports that the Environment Minister Veerappa Moily is likely to approve GM crops in the country.
His move is against the position of his immediate predecessors Jayanthi Natarajan and Jairam Ramesh.
Moily's support will pave the way for the government to submit an affidavit in the Supreme Court acquiescing to field trials of GM food crops on a conditional basis, the Economic Times reported.
The apex court is hearing a Public Interest Litigation (PIL) on the issue and the Prime Minister's Office as well as the Agricultural Ministry have pushed hard to submit such an affidavit, but were unable to do so because of resistance from Natarajan. Her opposition to GMO field trials has been cited as one of the reasons for her departure.
Monsanto is on a global march – who can stop them? Send Sustainable Pulse your suggestions!