A group of scientists and food security experts have taken the Russian Government resolution, which will allow the registration of GM crops and products containing GMOs from June 1, 2014, to the Supreme Court.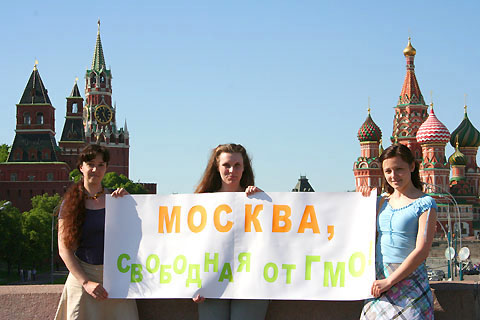 On December 16 the group, which includes representatives of non-profit organizations and experts in the field of biological and food security, filed a suit in Russia's Supreme Court to challenge the adoption of Russian Government Decree 839 of 23 September 2013, regarding the state registration of GMOs.
According to the experts, this Government resolution violates the constitutional rights of Russian citizens, including the right to a healthy environment, and food safety information.
Yulia Yakel , environmental lawyer and member of the Legal Center "Spring", stated; "We intend to ensure that Government Decree 839 does not come into force in 2014, but is instead cancelled."
Government Decree 839 'On the state registration of genetically modified organisms intended for release into the environment, as well as products derived from the use of such organisms or containing such organisms' was signed by Russian PM Dmitry Medvedev on September 23, 2013. This decree may enable GM crops to be grown in Russia soon after June 1, 2014.
"Decree 839 endangers the biological and food security of Russia. In no case should this resolution be allowed to enter into force. The registration of GMOs and their subsequent cultivation is a process that would entail irreversible consequences", said Alexander Baranov, Honorary President of the National Association for Genetic Safety (NAGS).
Environmentalists and scientists in Russia insist on the need for further research on the effect of GMOs on living organisms and the environment. GMO safety is still not proven, while independent studies indicate serious risks of using GMOs.
"The task of civil society is to protect their interests and to take concrete action. And if a man pretends to be a part of this society, it is not enough just to develop this activism on the Internet. And the courts are there to be an independent arbiter, including in matters between the positions of the state and society, which do not always coincide", Elena Sharoykina, Director of the National Association for Genetic Safety (NAGS) stated.
"That's why we ask all concerned citizens to support us and send the Supreme Court a similar plea on their behalf. The quality of all our lives depends on the decision that is taken," Sharoykina concluded.
The full text of the statement in Russian can be found here:  Cancel resolution 839. Statement to the Supreme Court