The Ghana Catholic Bishops' Conference has advised the government to "hasten slowly" with the introduction of genetically modified foods to the local market. Meanwhile, the Uganda Joint Christian Council (UJCC) has also appealed to the Ugandan Government to consult widely before enacting their National Biotechnology Bill.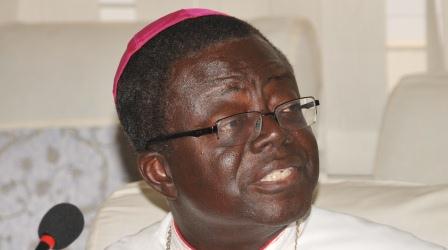 "Some experts argue that GMOs are risky and may cause harm to our environment and the consumers. Government should consult as widely as possible on the Bill which may have far reaching implications if passed without precaution," the UJCC executive secretary stated.
"We, the members of the Ghana Catholic Bishops' Conference have had the opportunity to listen to both sides of the debate on the genetically modified organism (GMO) and to study both the advantages and disadvantages of GMOs. We have come to the conviction that there is the need to hasten slowly and not rush with the introduction of GMOs to the Ghanaian market," a statement issued by the Ghana Bishops conference said.
The statement, signed by the President of the conference, Most Rev. Joseph Osei-Bonsu, called for proper education for all Ghanaians to enable them to appreciate the merits and demerits of GMOs and to help them make informed decisions on the subject.
It called for the debate on GM foods to stop and allow for proper dialogue and consultations among stakeholders. This will make Ghana the true winner in whatever decision we will eventually arrive at with regard to the possible introduction of GMOs in Ghana," the statement advised.
Plant Breeders Right Bill
Concerning the Plant Breeders Right Bill, which is currently under consideration in Ghana, the statement conceded that the bill, which is intended to protect the ownership of the seeds or crops developed by farmers and groups, was good.
However, it said many farmers did not know the contents of the Bill or its objective.
"It is, therefore, only proper and appropriate that the contents of such a Bill is made available to this critical constituency so as to enable them to contribute to it by way of their inputs," the statement continued.
Food sufficiency
On whether or not Ghana can do without GM foods, the statement said among other things, it was possible that the country could achieve food sufficiency and even produce surplus food for export, using the conventional means of farming.
The statement said that could happen if the government put in place the appropriate measures and create the enabling environment for agriculture to thrive.