The U.S. Department of Agriculture's (USDA) Animal and Plant Health Inspection Service (APHIS) is set to hold a virtual public meeting on January 29 from 17:00 – 20:00 EST, to receive comments on a draft Environmental Impact Statement (DEIS) for three petitions for the nonregulated status for genetically engineered crop varieties.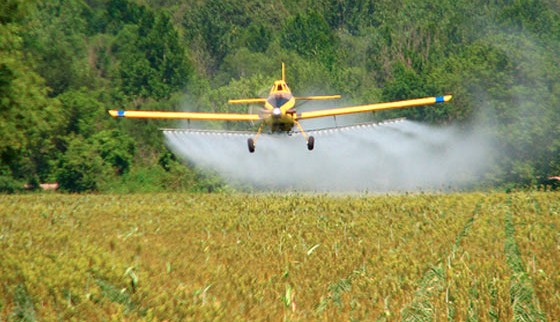 The DEIS analyzes the potential environmental impacts of one corn and two soybean varieties genetically engineered (GE) by Dow AgroSciences to be resistant to the herbicide known as 2,4-D, and several other herbicides.
For more information, visit www.aphis.usda.gov/APHISVirtualMeetings/ and to provide written comments through Febuary 24, visit www.regulations.gov/#!docketDetail;D=APHIS-2013-0042.
Farm, food safety, health and environmental advocates have denounced the USDA's DEIS which essentially gives the agency's green light to the marketing, sale and planting of Dow's 'Enlist' GM corn and soybeans designed to be resistant to the hazardous herbicide, 2,4-dichlorophenoxyacetic acid (2,4-D).
'Enlist' GM corn will trigger a huge increase in the use of the toxic herbicide 2,4-D across the US.
Sustainable Pulse would like to remind readers that Australia banned the use of 2,4-D HVE in 2013 over environmental concerns
USDA's "preferred" determination that 2,4-D corn and soy need not be regulated under the Plant Pest Act comes despite intense opposition over the past two years from farmers and over 400,000 other individuals and more than 150 farm, fishery, public health, consumer and environmental groups and private businesses.
The agency's release of its draft EIS on January 3 opened a 45-day public comment period.
'Enlist' corn is one of 8 herbicide-resistant GE crops pending approval by USDA. The others are herbicide-resistant varieties of soybeans (5), cotton (1) and creeping bentgrass (1). Two of these (soy and cotton) have been engineered to be used with dicamba, another notoriously drift-prone herbicide closely related to 2,4-D and known for easily damaging farmers' non-GE crops. In 2013, USDA rapidly approved 7 other herbicide-resistant GE seeds, as the agency sought to speed up its GE crop approval process.
Medical studies have linked 2,4-D and related herbicides to increased rates of cancer, Parkinson's disease, low sperm counts in farmers and birth anomalies in their children. 2,4-D has also been shown to cause liver and nerve damage, as well as hormonal disruption. "Any increase in the use of 2,4-D with Enlist corn will hit rural communities especially hard," Dr. Ishii-Eiteman explained. "Farmworkers and other rural residents will also be at risk," she added.
Critics point out that Dow is marketing 2,4-D corn as a response to a problem created by first-generation GE herbicide-resistant crops—specifically Monsanto's "Roundup-Ready" varieties. Over the past decade, Roundup-Ready crops have triggered massive use of the herbicide glyphosate and an ever-expanding epidemic of glyphosate-resistant "superweeds."
While Dow claims that 2,4-D crops will alleviate the superweed problem, a recent peer-reviewed study concludes that the opposite is true. The report, "Navigating a Critical Juncture for Sustainable Weed Management", finds that Enlist crops will trigger an outbreak of still more intractable weeds resistant to both glyphosate and 2,4-D.
For more information and quotes on this story visit here.