Large Ukrainian agricultural associations have prepared draft amendments to the law on the state biosecurity system in creating, testing, transportation and use of genetically modified organisms (GMO) regarding the legalization of genetically modified seeds.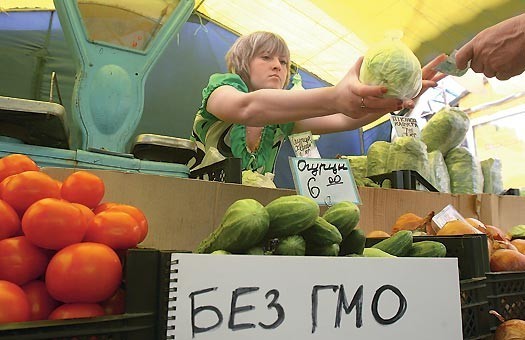 Sustainable Pulse Director, Henry Rowlands, reacted to the Ukrainian associations' statement by suggesting that "Ukrainian agriculture will be seriously damaged if the Ukrainian government legally allows GM seeds in the country.  Their farmers will find their export markets reduced due to consumers' anti-GMO sentiments both in Russia and the EU."
Rowlands continued: "The bulk of Monsanto's investment in Europe is destined for the Ukraine, where Monsanto expects to have its largest seed production plant in Europe within five years after earmarking an initial $150 million investment, which could rise to $300 million within several years. Does Ukrainian agriculture want to totally rely on the success or failure of one US based company?"
Source: Interfax
President of the Ukrainian Grain Association (UGA) Volodymyr Klymenko said at a press conference at Interfax-Ukraine that the relevant appeal to the president, the head of the Verkhovna Rada and the heads of parliamentary factions was signed by six agricultural associations.
"We could mull over this issue for a long time, but we, jointly with the associations, have signed two letters to change the law on biosecurity, in which we propose the legalization of the use of GM seeds, which had been tested in the United Stated for a long time, for our producers," he said.
According to the UGA president, currently the GM seeds of corn and soybeans are used in the country in spite of the legislative ban. Talking about the use of foreign experience in this field, Klymenko said that "we will never take someone's seeds and will never be able to study them, because this requires decades. Ukraine's way forward in this issue is either to agree or not to."
According to the expert, the United States produces about 75% of corn and 95% soybeans from GM seeds. The European Union banned the cultivation of GM crops, but GM products are imported and used, in particular, in animal feed, added Klymenko.
Ukraine is a major global grain producer and is forecast to export 14.5 million tonnes of maize this year. The country currently imports around half of the seed it needs to produce its annual maize crop, but Monsanto said its new plant would reduce that dependence by about a fifth.