Connecticut is celebrating Tuesday after becoming the first US state to pass GMO Labeling in to law. This landmark event has sparked a wave of support from around the US as a number of other states aim to follow Connecticut over the next year.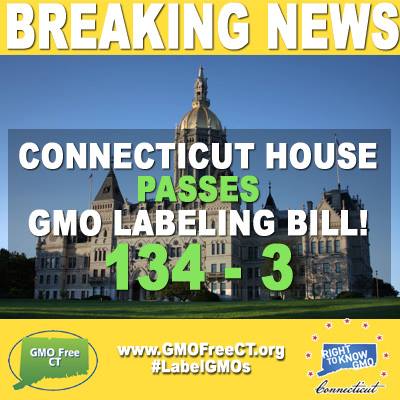 The bill received bipartisan support, passing the Senate unanimously and winning a 134-3 vote in the House.
The bill was amended to be stronger last weekend – as GMO Free CT stated on their Facbook page; "the bill was re-amended by the Senate on Saturday and was approved today by the House. The trigger  is now four states (i.e four other states have to pass similar legislation before bill is acted on) and the population size was reduced. The biggest amendment the Senate made, and by far the most important, was the removal of the exemption for farmers making less than $1.5 million dollars which really challenged the integrity of the bill. This is a compromise, but one that strengthens the integrity of the bill now. This will truly help other states move forward which will assist us with the trigger."
"It passed the Senate first. The House passed today. It will go to the Governor for his signature. He attended the press conference today and has pledged to sign it," GMO Free CT continued.
Governor Dannel P. Malloy joined activists and House and Senate leadership to celebrate the bill's passage, assuring them that the bill's last step before enactment – his signature – would not be an issue. "This is important stuff. . . and I think the rest of the world is starting to understand that," Malloy said. "I know a lot of you are surprised. I'm not. I saw it coming. It's an appropriate thing to do."
Senate President Donald Williams said the bill would make a "critical difference."
"We have made history in the state of Connecticut, and this issue is so important in terms of the safety of our food supply and the health of the men, women, and children in this country," Williams said. "We know these GMO foods are tied directly to increased use of herbicides and pesticides that are wreaking havoc in our environment."
GMO Free CT also confirmed that other states are close to joining the celebrations: "Vermont is very close. Their bill passed in the House. It will be brought up before the Senate in January."
Rep. Diana Urban, one of the bill's main proponents, said Maine, New Jersey, and New York are "well on their way to passing similar legislation."
"This is history," Urban said. "It's a doable trigger, and I am just thrilled. Sixty-two other countries either ban [GMOs] or label them, and we're the first in the nation to stand up and do this."