The Non-GMO Project Verified label recently cleared a regulatory hurdle for labeling meat and liquid egg products. This is the first time that the Food Safety and Inspection Service (FSIS), a branch of the USDA that regulates such products, has approved a non-GMO label claim.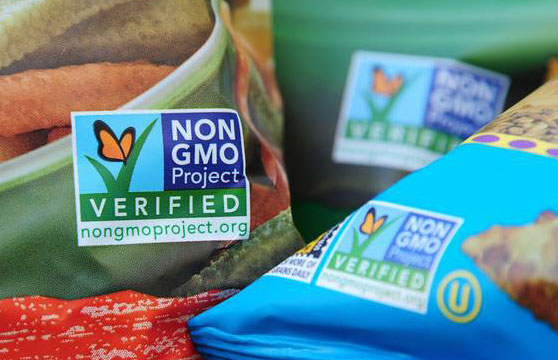 Source: nongmoproject.org
The approval from FSIS marks the end of a year-long effort, which included two trips to Washington D.C. to meet with regulators and took the coordinated effort of ranchers, poultry farmers, industry consultants, and the Non-GMO Project. More importantly, it provides a measure of confidence to companies that currently offer Non-GMO Project Verified meat or liquid eggs.
"It means everything to have this label and we're very thankful that FSIS worked with us to get this approved," said David Pitman of Mary's Chicken, which has 17 verified products and is in the process of verifying more.
This result would not be possible without the persistence and support of Pitman Family Farms; Hidden Villa Ranch, owners of NestFresh brand eggs; Mindful Meats, which has verified beef; and Dave Carter from Crystal Springs Consulting.
For products subject to FSIS oversight, the Non-GMO Project Verified label has been slightly reformatted and will include text that clarifies how animal products meet the Non-GMO Project standard.
"Meat and eggs cannot be tested themselves for GMOs – that's why we test the animal feed. The supplemental language will help clarify that," said Megan Westgate, Executive Director of the Non-GMO Project.
The updated version of the verification mark is available for any product that contains meat or liquid eggs. For more information, please contact the Project's Product Verification Program team at 877-358-9420 x102.