Election campaigns attract interest from all sorts of groups. Even bikini-clad beach babes overseas.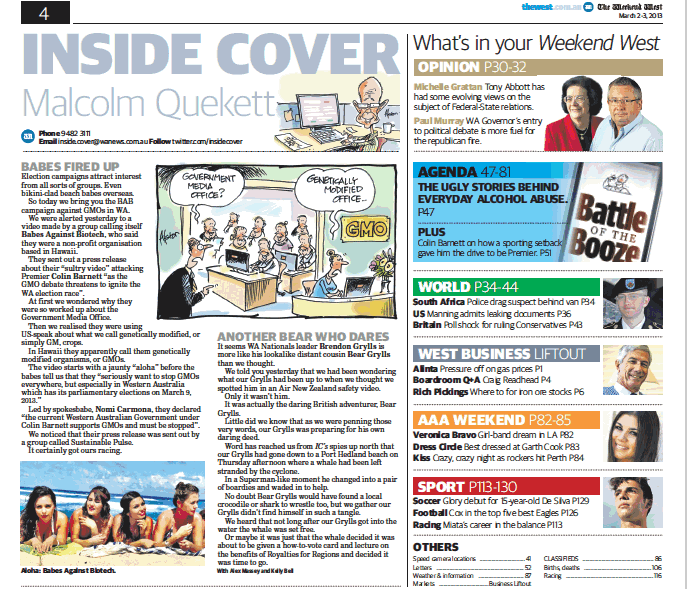 So today we bring you the BAB campaign against GMOs in WA.
Publication: The West Australian; Date: Mar 2, 2013; Section: Front Page; By Malcolm Quekett
We were alerted yesterday to a video made by a group calling itself Babes Against Biotech, who said they were a non-profit organisation based in Hawaii.
They sent out a press release about their "sultry video" attacking Premier Colin Barnett "as the GMO debate threatens to ignite the WA election race".
At first we wondered why they were so worked up about the Government Media Office. Then we realised they were using US-speak about what we call genetically modified, or simply GM, crops. In Hawaii they apparently call them genetically modified organisms, or GMOs.
The video starts with a jaunty "aloha" before the babes tell us that they "seriously want to stop GMOs everywhere, but especially in Western Australia which has its parliamentary elections on March 9, 2013." Led by spokesbabe, Nomi Carmona, they declared "the current Western Australian Government under Colin Barnett supports GMOs and must be stopped".
We noticed that their press release was sent out by a group called Sustainable Pulse. It certainly got ours racing.
Thanks for the coverage @thewest_com_au   
See the full Babes Against Biotech video attacking Colin Barnett here