Colarado's House of Representatives member, Jared Polis, has announced that he is introducing a federal GMO labeling bill in Congress to mandate the labeling of food containing genetically modified organisms in all 50 states.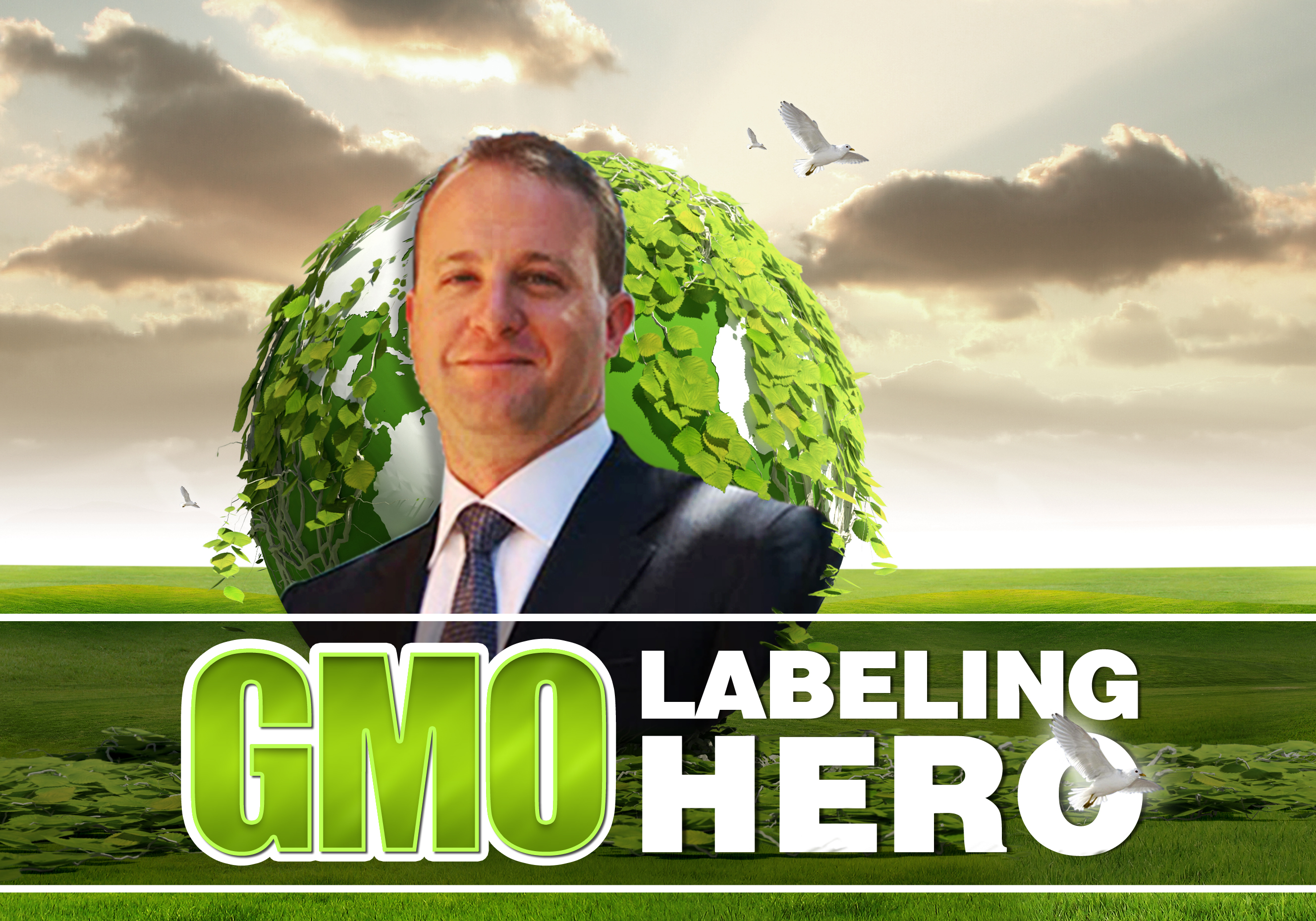 Polis is the official new hero of the pro GMO labeling movement in the US. In a press release announcing the event, Polis said he is proud "to help lead the GMO labeling bill."  He says it is all about "consumer choice and information."
Share his 'GMO Labeling Hero' picture – By Clicking On It and Sharing.
"It's important to empower people with information they need to make their own healthy choices," he said. "People have the right to make consumer decisions based on accurate transparency in labeling, and knowledge is power."
---
Who Is Jared Polis ?  GMO Labeling Hero
Jared Schutz Polis (born May 12, 1975) is an American entrepreneur, philanthropist, and politician. Polis is the member of the United States House of Representatives for Colorado's 2nd congressional district, serving since 2009. He is a former member of the Colorado State Board of Education and a Democrat.
Polis is the son of Stephen Schutz and Susan Polis Schutz. He attended the La Jolla Country Day School in San Diego, California and went on to receive his Bachelor of Arts in political science from Princeton University.
Polis along with his parents founded bluemountainarts.com, an online greeting card website, which he sold to Excite@Home three years later in a deal worth $780 million.  In 1998, he launched the online florist company ProFlowers that expanded to become Provide Commerce, Inc., acquired in 2006 by Liberty Media Corporation.
In 2000, Polis founded the Jared Polis Foundation, whose mission is to "create opportunities for success by supporting educators, increasing access to technology, and strengthening our community."  Its main programs are the annual "Teacher Recognition Awards"; the "Community Computer Connection" program, which refurbishes and donates more than 3,500 computers a year to schools and non-profit organizations; and the semi-annual "Jared Polis Foundation Education Report". Polis has also founded two charter schools for at-risk students. In 2004, he established the "New America School", which primarily serves older immigrant youth ages 16–21 and has three campuses in the Denver Metro area and one in New Mexico.  In 2005, Polis co-founded with Urban Peak the Academy of Urban Learning  in Denver to help youth at risk of becoming homeless or living in unstable living conditions.
Polis was named Outstanding Philanthropist for the 2006 National Philanthropy Day in Colorado. He is a recipient of many awards, including the Boulder Daily Camera's 2007 Pacesetter Award in Education;  the Kauffman Foundation Community Award;  the Denver consul general of Mexico "Ohtli";  the Martin Luther King, Jr. Colorado Humanitarian Award; and the Anti-Defamation League's inaugural Boulder Community Builder Award.
At the time of his election, Polis had founded a number of companies and is one of the 10 richest members of the United States Congress, estimated to be worth at least $65.91 million.
---
At today's press event, he'll be standing beside Mark Retzloff, chairman of Alfalfa's Market. Retzloff was a pioneer in organic retailing, opening the organic Pearl Street Market in Boulder back in 1979, evolving it into "Alfalfa's" in 1983 and then  expanding to 11 stores.  Alfalfa's merged with Wild Oats Markets in 1996.
It was retailers like Retzloff and Mackey who were among those responsible for U.S. sales of organic food and beverages going from $1 billion in 1990 to almost $27 billion by 2010.  Annual sales for 331 Whole Foods Markets currently stand at about $9 billion.
In other GMO labeling progress, next Tuesday, the Maryland House Health and Government Operations Committee will hold a public hearing on state House Bill (HB) 0903, setting disclosure and labeling requirements for GMO foods. A similar bill was introduced in Iowa, and Washington State's Initiative 522 is still moving along.
There has also been some excellent recent progress in Hawaii.