A new peer-reviewed study shows an explosion in the toxicity of U.S. agriculture for insects over the past 25 years since neonicotinoid pesticides were introduced. The study found that U.S. agriculture is 48 times more toxic to insect life, and that neonicotinoids account for 92 percent of the increase in toxicity.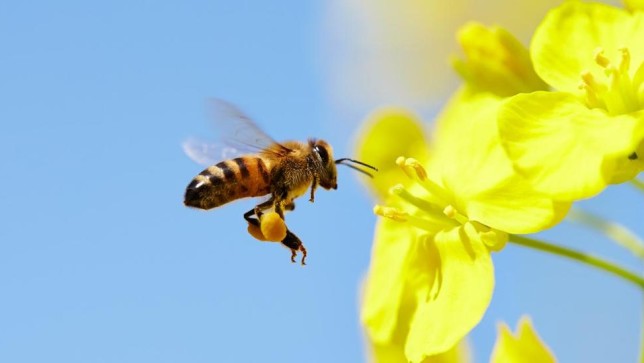 "It is alarming that U.S. agriculture has become so much more toxic to insect life in the past two decades," said Kendra Klein, Ph.D., study co-author and senior staff scientist at Friends of the Earth. "We need to phase out neonicotinoid pesticides to protect bees and other insects that are critical to biodiversity and the farms that feed us."
Published in the journal PLOS ONE, An assessment of acute insecticide toxicity loading of chemical pesticides used on agricultural land in the United States, is the first study to quantify how hazardous our agricultural lands have become for insect life by providing a way to compare changes in the toxicity of U.S. agriculture year-to-year.
The increase in toxic load measured by the study is consistent with recent reports of dramatic declines in beneficial insects and bird populations. The study comes on the heels of the first meta-analysis of global insect decline, which found that 40 percent of insect species face extinction in coming decades, leading the authors to warn of "catastrophic ecosystem collapse" if we don't change the way we farm.
The new study found that the persistence of neonicotinoids creates a cumulative toxic burden in the environment that is much higher than that experienced by insects 25 or more years ago. This is because neonicotinoids are considerably more toxic to insects and far more persistent in the environment than other commonly used insecticides. While others break down within hours or days, neonicotinoids can be effective at killing insects for months to years after application.
"Congress must pass the Saving America's Pollinators Act to ban neonicotinoids," said Klein. "In addition, we need to rapidly shift our food system away from dependence on harmful pesticides and toward organic farming methods that work with nature rather than against it."
A growing body of evidence points to neonicotinoids as a factor in insect declines, along with climate change and habitat destruction, leading some scientists to warn of an "insect apocalypse." Insects make up the basis of the food webs that sustain life on Earth and play a critical role in the agricultural production of crops that feed us all. Pollinators, like bees, are responsible for one in three bites of food we eat.
The new study shows a dramatic increase in the toxic load of U.S. agriculture beginning in the mid-2000s. This is when neonicotinoids first started being used to coat the seeds of commodity crops like corn and soy. The findings show that corn and soy have contributed more than any other crops to the increase in toxic load. Research, including an Environmental Protection Agency assessment, shows that neonicotinoid seed coatings provide little to no economic benefits to farmers but come at a high cost to the environment. 
The study found that the three neonicotinoids that contributed most to the increasing toxic load are imidacloprid and clothianidin, manufactured by Bayer, and thiamethoxam, a product of Syngenta-ChemChina.
Based on the study analysis, the authors assert that existing regulations for the registration of pesticides in the U.S. are not adequate to prevent the introduction of chemicals that can cause catastrophic harm in the environment. The study presents a new method that could be used by the Environmental Protection Agency to assess future potential risks to biodiversity before introducing new pesticides into the environment.
DiBartolomeis, M., Kegley, S., Mineau, P., Radford, R., and Klein, K. 2019. An assessment of acute insecticide toxicity loading (AITL) of chemical pesticides used on agricultural land in the United States. PLOS ONE. 14(8): e0220029.
For more information go to foe.org/toxic-acres/