The Environmental Working Group, joined by food and nutrition companies including MegaFood, Ben & Jerry's, Stonyfield Farm, MOM's Organic Market, Nature's Path, One Degree Organic Foods, National Co+op Grocers and Happy Family Organics, petitioned the Environmental Protection Agency on Thursday to sharply limit glyphosate residues allowed on oats and prohibit the pesticide's use as a pre-harvest drying agent.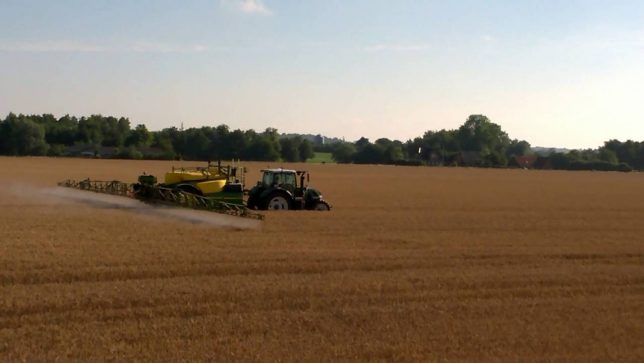 Glyphosate, the active ingredient in Monsanto's Roundup, is mostly used as a weedkiller on genetically modified corn and soybeans. But it is also increasingly sprayed on oats just before harvest as a drying agent, or desiccant. Glyphosate kills the crop, drying it out so that it can be harvested sooner than if the plant were allowed to die naturally. This allows easier harvesting but also increases the likelihood that the pesticide makes it into foods.
In 2016, a testing project by Food Democracy Now! and The Detox Project found alarming levels of glyphosate in General Mills' Cheerios and Honey Nut Cheerios, Kellogg's Corn Flakes, Raisin Bran and Frosted Flakes and PepsiCo's Doritos Cool Ranch, Ritz Crackers and Stacy's Simply Naked Pita Chips, as well as many more famous products.
In August, independent laboratory tests commissioned by EWG found glyphosate residues in popular oat-based foods marketed toward children. Almost three-fourths of the samples tested had glyphosate levels higher than what EWG scientists consider protective of children's health with an adequate margin of safety.
Glyphosate Box

Glyphosate Residue Free Certification for Food Brands – Click Here

Test Your Food and Water at Home for Glyphosate – Click Here

Test Your Hair for Glyphosate and other Pesticides – Click Here to Find Our Your Long-Term Exposure
"No parent should worry whether feeding their children healthy oat-based foods will also expose them to a chemical linked to cancer," said Scott Faber, EWG's senior vice president for government affairs. "Using glyphosate as a desiccant is not necessary, but only a convenience for growers. That's not worth taking a chance with our children's health."
The EPA's legal limit on glyphosate residues is 30 parts per million, or ppm. The petition, joined by 8 industry leaders asks the EPA to set a more protective standard of 0.1 ppm, which was the legal limit in 1993.
Over the last 25 years, the EPA has increased the amounts of glyphosate residue allowed on oats 300-fold. The first increase, to 20 ppm, was granted in response to a 1997 petition from Monsanto, when farmers around the world first began using glyphosate widely as a late-season desiccant. It was increased to the current 30 ppm level in 2008.
Since then, scientists have linked glyphosate to cancer and researchers around the world have called for stricter limits on glyphosate exposures.
In 2015, 17 of the world's top cancer researchers convened by the International Agency for Research on Cancer reviewed hundreds of studies on glyphosate and voted unanimously to classify the weedkiller as "probably carcinogenic to humans." Last year, California added glyphosate to its official list of chemicals known to cause cancer.
"The verdict is in – glyphosate use poses a significant threat to the health of our planet and the people on it.  As more and more consumers continue to raise valid concerns about the incredibly harmful effects of glyphosate, it's high time that the EPA prohibits the pre-harvest use of glyphosate on every farm across the country," said Robert U. Craven, CEO of MegaFood. "The federal government has a duty to protect its most vulnerable citizens, and today's petition filing is a signal that it's time to clean up the supply chain to improve overall health."
"The citizen petition submitted to EPA today is an important step in confronting the overuse of glyphosate in our food system," said Matthew McCarthy, CEO of Ben & Jerry's ice cream. "We call on EPA to quickly take the steps necessary to ensure that unwanted levels of pesticides don't wind up the food Americans eat."
"As a mom of two young children and as a maker of organic baby food, I urge the EPA to protect us appropriately from this chemical glyphosate that may have serious consequences to our health and more importantly, the lifelong health of our children," said Shazi Visram, Founder and ChairMom of Happy Family Brands. "Progress must always be made to ensure their safety and well-being. To me that means we are always strengthening our standards. So first and foremost we should maintain the standard that was 300 times stronger over 20 years ago."
The petition asks the EPA to prohibit the use of glyphosate as a pre-harvest desiccant on oats and set a stricter limit for imports coming from countries with less protective standards. This simple change could significantly reduce a source of the pesticide in Americans' diets.