The Russian Government's Commission on Legislative Activities has approved a bill introduced by the Ministry of Science and Education aimed at improving Russia's regulation of genetic engineering.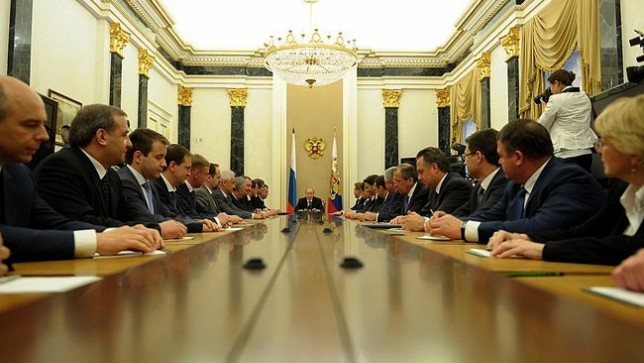 Source: government.ru
The bill imposes a ban on the cultivation and breeding of genetically modified plants and animals in Russia, except for when used in scientific research.
The draft federal law was developed upon the request of Russian President Vladimir Putin after a recent meeting of the Security Council "On the status and problems of national security in connection with the use of genetically modified organisms."
The bill is a breakthrough for all GMO-Free activists in Russia as it:
strengthens the current Federal Law on state regulation in the field of genetic engineering "to minimize risks to humans and the environment"
imposes a total ban on the cultivation and breeding of genetically modified plants and animals on the except for the use of the expertise and scientific research
introduces stricter control on importers of products containing GMOs  including forcing them to register these products
gives the Russian government the right to prohibit the import of products containing GMOs into Russia based on the results of monitoring and scientific research
provides for administrative penalties for the use of genetically modified organisms in violation of the permitted varieties and conditions of use
The article on the Russian government website states that the adoption of the bill will contribute to security for humans and the environment during the process of genetic engineering and the use of its results i.e. GMO products and crops.
The bill will now be considered at a full meeting of the Russian Government.
Despite many recent articles suggesting that Russia has already banned the import of GMO products this is not the case. In fact 18 lines of GMOs in GMO products are officially allowed to be imported into Russia at the moment. This is a far lower number than in other countries, as the Russian government and farming industry has long been opposed to GMOs and has maintained a ban on GM crop cultivation.
Russian President Vladimir Putin recently signed the Russian Federation Code of Administrative Offences into law, including a new article establishing liability for the violation of mandatory requirements for the labeling of food products that contain GMOs.
President Putin also said in 2014 that Russia must protect its citizens from over consumption of products containing genetically modified organisms. Prime Minister Dmitry Medvedev followed this with a statement that Russia has no intention to import GMOs in the future.
Russian Minister of Agriculture Nikolai Fyodorov believes that Russia must remain a GMO-free country. At a meeting of deputies representing rural areas organized by United Russia, he said that the government will not "poison their citizens".