The reason genetically modified organisms (GMOs) have sparked such fears in South Korea isn't just about safety issues without clear facts, or irrational labeling practices. While South Korea has been emerging as the world's second biggest importer of GMO crops, mystery plants have been taking root all over the country. The genetically modified (GM) crops that are growing in South Korean soil are a major issue in a country with a government ban on their cultivation. They stand as a stark signal that fears of imported GMOs disrupting the local ecosystem are already becoming a reality.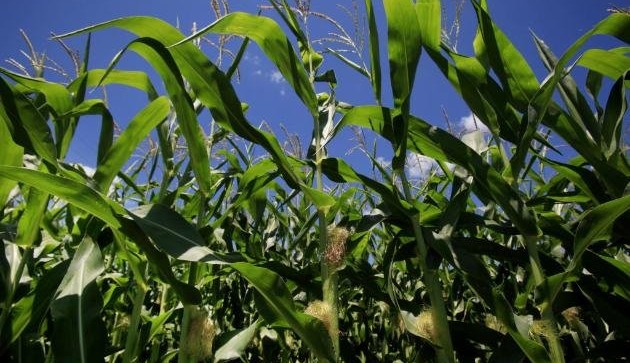 Source: english.hani.co.kr  By Choi Sung-jin
A National Institute of Ecology (NIE) monitoring report on the effects of GMOs on the natural environment, acquired on Dec. 30 by the Hankyoreh, showed GM corn and cotton discoveries across the country in 2013. Corn was found in Pyeongtaek, Gyeonggi Province; Gimje, North Jeolla Province; and Gimhae, South Gyeongsang Province. Cotton was found in no fewer than fifteen locations.
"Analysis of 521 suspected GM samples collected from 647 regions showed a total of 21 GM crops in eighteen regions," the NIE said.
The eighteen regions included places in Gyeonggi, North Jeolla, North and South Gyeongsang provinces, and the city of Incheon. Gyeonggi Province accounted for the majority, with twelve locations. Most of the discoveries (nine) came in areas near livestock farms, though GM plants were also found along import transportation routes (six) and near feed factories (three). South Korea imports all of the GMOs used for food and feed; the discoveries are believed to be the result of imported corn and cotton seeds sprouting after being spilled on the way to feed factories and livestock farms.
The biggest potential issue from the GMO spillage is disruption of local ecosystems. Genetically modified corn is strongly resistant to herbicide, and seeds spilled in transit could breed with local plants to produce so-called "superweeds." Indeed, the state of Oregon became the focus of worldwide shock on Apr. 30 of last year when GM wheat (MON71800) was discovered there despite not having been approved by the US government for cultivation. The US Animal and Plant Health Inspection Service (APHIS) never reached a definite conclusion on the source of the strain, which resists the effects of herbicide. But many speculated that it had something to do with test cultivation of herbicide-resistant GM wheat a decade before in Oregon by Monsanto, the world's biggest GMO company. On July 2, 2013, the Korea Food & Drug Administration and Ministry of Agriculture, Food and Rural Affairs conducted testing and monitoring on imported wheat from Oregon, concluding that no GM strains were found. Oregon accounts for roughly half of South Korean wheat imports from the US.
Choi Jun-ho, chief of policy for the Korean Federation for Environmental Movement, raised questions about the findings on Dec. 11.
"Monsanto and others claim the chances of GM crops growing after spilling during the import/transit process are low, but the NIE studies show that the fears of ecosystem disruption in South Korea from GM crops are already becoming a reality," Choi said.
"South Korean food companies and livestock farms chiefly import GM soybeans, corn, and rapeseed (canola), and the damage to farms if GM canola spills into nearby farms and breeds with similar domestic cabbage varieties, or if GM soybeans mixes with organic glycine soja, could be enormous," he added.
An NIE source said on Dec. 6 that the discovery of unapproved GM crops in South Korea "is not a matter that can be taken lightly in terms of ecosystem protection."
"We are conducting GMO monitoring this year, and the research team is immediately collecting any of these GM crops it discovers and subjecting them to high-pressure sterilization," the source added.
The National Institute of Environmental Research, which conducted a GMO environmental monitoring project with the NIE through 2013, has been expanding the scope of its study every year since 2009 to prevent local ecosystem disruptions from spilled GM crops. The problem is that the number of GM plant discoveries has also increased. The first study in 2009 identified GMOs in eight out of 159 regions studied. The following year found plants in ten out of 169 sites examined; for 2011, the rate was a similar ten out of 177 sites. For 2012 and 2013, the study was expanded to 626 and 647 locations, respectively. GMOs were found in nineteen locations in 2012 and eighteen the following year. Each expansion in the study scope was turning up more unidentifiable strains. Worryingly, the discoveries were spread around the country.
"The NIE says it's expanding the area of its studies to prevent imported GMO spillage from disrupting the ecosystem, but it can't possibly investigate every pathway of import or distribution," said Shin Ji-yeon, secretary-general of the Korean Women Peasant Association. "Obviously the farmers are very worried about what kinds of GMOs are growing and where."
"If they really want to prevent GMOs from spilling and sprouting in transit, then preventive measures are every bit as important as import and distribution pathway studies and after-the-fact measures," Shin added. "We're not seeing those kinds of efforts from the government."