Seed giant Syngenta faces billion-dollar class actions in three states, claiming China is rejecting U.S. corn shipments because Syngenta released a genetically altered variety before the crop was approved for export to China.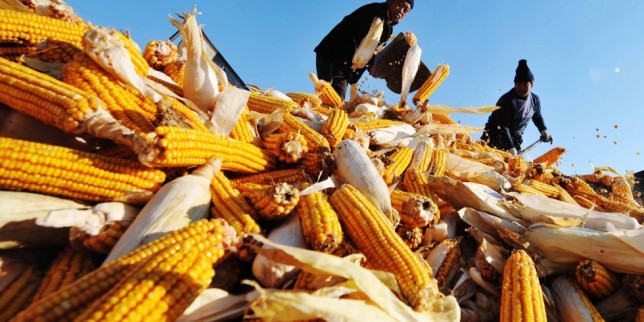 Source: www.courthousenews.com
Syngenta "destroyed the export of U.S. corn to China and caused depressed prices for all domestic corn," Omaha-based Volnek Farms claims as lead plaintiff in a $1 billion claim in Omaha Federal Court.
In Sioux City, Iowa, lead plaintiffs Cronin Inc. and Jim Ruba Jr. claim that they do not even use GM corn, but they have been hurt because of "(1) Syngenta's release of Viptera corn into the U.S. corn and corn seed supply, which has destroyed the export of U.S. corn to China and caused depressed prices for all domestic corn; (2) Syngenta's materially misleading statements relating to the approval status of MIR162 in China and the impact the lack of approval would have on the market; and (3) Syngenta's widespread contamination of the U.S. corn and corn seed supply with MIR162, which will continue to foreclose the U.S. export market to China in future years and will continue to lead to lower corn prices per bushel in the U.S. market, as a result."
A third, similar class action was filed Friday in Springfield, Ill. Federal Court.
Syngenta's MIR162 genetically modified corn also is known as Agrisure Viptera.
All three class actions were filed Friday.
Agrisure Viptera was released and distributed for planting in 2009, with a second generation version known as Agrisure Duracade distributed this year. MIR162 is engineered to protect against insects such as the corn borer and corn rootworm.
It was approved for production for U.S. markets, but regulators in China have not yet approved it.
Chinese regulators continue to reject shipments that contain traces of Syngenta's genetically altered varieties, Volnek Farms says in the Omaha complaint.
Volnek cites a USDA report that estimated that 5 million tons of U.S. corn were sold to China in 2012-2013, and that "significant demand" and growth is expected in the Chinese market.
But China "stopped importing U.S. corn when it detects traces of MIR162 in U.S. corn shipments" and has given no indication when or if approval will be given, Volnek says.
While this specific variety of corn was planted on only about 3 percent of U.S. acres, there is no way of ensuring "that any shipments of U.S. corn will not be contaminated with trace amounts of MIR162," according to the Omaha class action.
According to the Iowa class action, the release of Syngenta's GM seed led to an 85 percent drop in Chinese imports of U.S. corn.
The National Grain and Feed Association estimates that Chinese rejection of U.S. corn has reduced corn prices by 11 cents per bushel, and it has asked Syngenta to stop selling the genetically modified corn varieties, according to the Iowa lawsuit.
Syngenta's website downplays the importance of selling to China. In its "Plant with Confidence" fact sheet on Agrisure Viptera, checked Monday, Syngenta assures farmers that "the vast majority of corn produced in the U.S. is used domestically," and that in the past five years only 13 percent of U.S.-produced corn has been sold abroad, with China importing little more than 0.5 percent of it.
The U.S. Department of Agriculture, however, on its website claims the United States exports 20 percent of its corn crop.
The Iowa plaintiffs therefore accuse Syngenta of misrepresentation.
The USDA acknowledges on its website that the United States' export relationship with China is "difficult to predict," due to China's fluctuating domestic corn production, which is tied to export subsidies and Chinese tax rebates.
The United States is the world leader in corn production. According to the Omaha complaint, the corn is "harvested, gathered, commingled, consolidated, and otherwise shipped from thousands of farms" to distribution centers where it can be sold.
"Syngenta's decision to bring Viptera to the market crippled the 2013-14 corn export market to China," according to the Omaha complaint. It claims that continuing cultivation of the variety would increase the damage already inflicted on farmers as a result of Syngenta's "reckless disregard" for the commodity market.
Both lawsuits seek monetary damages and want Syngenta enjoined from cultivating and marketing the offending varieties of corn.
This is not Syngenta's first such legal battle. In 2011, Syngenta sued Bunge North America, a grain elevator firm, for posting signs announcing it would not accept Viptera corn. Syngenta's request that Bunge remove the signs was denied in Federal Court.
Other major grain handlers, such as Archer Daniels Midland and Cargill, also refuse to accept Viptera because "preventing commingling is essentially impossible," according to the Iowa complaint.
Lead counsel for both plaintiffs is Paul Lundberg of Sioux City.
In Illinois, lead plaintiff Hadden Farms' lead counsel is Adam Levitt, with Grant & Eisenhofer in Chicago.