Senate Appropriations Committee Chairwoman Barbara Mikulski has apologized for the infamous Biotech rider that US President Barack Obama recently signed in support of Monsanto et al.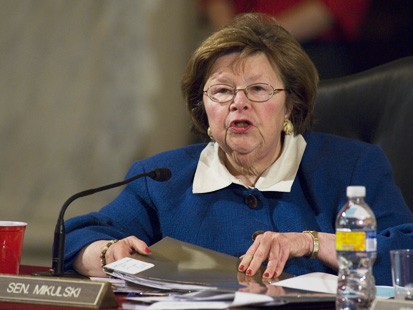 The statement released Saturday states "Senator Mikulski understands the anger over this provision. She didn't put the language in the bill and doesn't support it either.
"It was originally part of the Agriculture Appropriations bill that the House Appropriations Committee reported in June 2012, and it became part of the joint House-Senate agreement completed in the Fall of 2012 before Senator Mikulski became Appropriations Chairwoman.
"That agreement was not reopened when the Agriculture bill and several others were included in the Continuing Appropriations Act to prevent a government shutdown.
"Senator Mikulski has a strong food safety record. She has supported a bill requiring labeling of genetically engineered fish, an amendment to the Farm Bill that allows states to require labeling of edible foods and beverages for sale that contain genetically engineered ingredients, and called for labeling of cloned animals or their progeny.
"As Chairwoman of the Appropriations Committee, Senator Mikulski's first responsibility was to prevent a government shutdown. That meant she had to compromise on many of her own priorities to get a bill through the Senate that the House would pass. She will continue to fight for a regular and timely Appropriations process and other valuable priorities, including food safety."
The biotech rider – being referred to as the "Monsanto rider" and the "Monsanto Protection Act"– undermines the federal courts' ability to safeguard farmers and the environment from unlawfully approved, potentially hazardous GM crops.  Moreover, the rider represents an unprecedented attack on U.S. judicial review of agency actions and is a major violation of the separation of powers, an essential element of U.S. constitutional governance and law.
Going into effect March 28th, the rider will only be law for the 6-month life of the bill. The Senate and House are expected to take up FY2014 appropriations bills in the coming months.  Senators Tester, Boxer, Gillibrand, Leahy, Begich and Blumenthal have all spoken out against the rider and offered an amendment to strike the rider from the Senate CR.  Despite receiving calls and emails from hundreds of thousands of citizens opposing the industry-driven rider and supporting the amendment to strike it, the amendment was ultimately never voted on.
Sustainable Pulse will continue to attack the Monsanto rider over the next 6 months by every means possible! Like Us on Facebook to follow our battle.