GMO Evidence has today published The Yucatan Times' breaking news regarding the death of 1500 bee colonies caused by the spraying of Monsanto's Roundup on GM maize in an impoverished Mayan farming community in Mexico.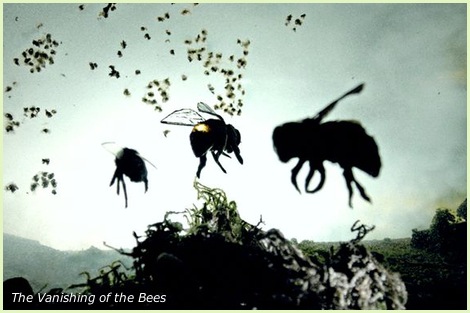 1,500 colonies of honeybees, from a community in Hopelchen, Campeche, died this February 6 from the fumigation of Monsanto's GMO's in a nearby area.
This has directly impacted more than 50 impoverished families, who recently suffered a poor corn crop due to drought. The community was relying on their sale of organic honey to compensate for the lack of maize. The current honey left by the bees is also lost due to the contamination of pesticides and transgenic pollen.
Alvaro Mena, a mayan farmer from Hopelchen and member of the Network in Defense of Maize, estimated losses at nearly 10 million pesos and is the equivalent of one year's worth of corn and honey production for the community.
Fumigation has intensified where GM crops have been planted in Mexico. GMO's are known to be resistant to pesticides and are planted in large monocultures, applying huge amounts of Roundup. It is no accident says Mena: it is the toxic onslaught that comes with GM crops and the threat of allowing millions of acres of GM Maize to be planted.
Mena attended the debate at which officials failed to attend and began with his witness of GMO's. Thousands showed up to participate in the debate on GM maize on Thursday, February 7, in a packed auditorium of the Faculty of Science, organized by several networks, including #YoSoy132 Environmental Via Campesina Popular Urban Movement, and the Network in Defense of Maize.
The officials were called to discuss the authorities of Agriculture, Environment and the Interministerial Commission on Biosafety and Genetically Modified Organisms (Cibiogem), but did not attend the meeting of social organizations and visiting scientists. The two secretariats claimed that they had no position on the issue. Currently, there are thousands of hectares of experimental and pilot fields in Mexico contaminating transgenic maize fields. Cibiogem, is reported to have had a busy schedule and could not attend.
Semarnat's response, sent the day of the debate, stated that the "reports that are pending will not go away because of a think tank debate."  The debate was composed of academics from UNAM, CINVESTAV, Colpi, Conacyt UAAAN and was meant to determine a "public policy on GM corn."
Several opinions are not in favor of GMOs, and many scientific recommendations have been given to the recently elected Mexico Government from the first day they took office. They have received a solid flow of documents signed by researchers from the above mentioned institutions and others (over 3,000 scientists and experts, who have a high number of national and international awards) calling to cancel transgenic maize crops in centers of origin for the risks involved, and to establish "an immediate review of the environmental and social aspects that would be impacted by planting transgenic maize in Mexico, based on rigorous science and broad public participation (…) for the consideration of the best technological options to address food production in our country. "
In favor of GMO's, Dr. Antonio Turrent, president of the Union of Scientists Committed to Society (www.uccs.mx) showed that transgenic maize is necessary to increase maize production in Mexico, and that the country has land conditions, water, seeds and diversity of public resources and technologies to meet all of Mexico's current and future needs without jeopardizing economic independence, diversity, health or the environment, as implied by the GM. Dr. Turrent who recently published a study detailing these options.
On the other hand, Peter Rosset, biologist and researcher, presented a list of papers published in refereed scientific journals, particularly a compilation of studies conducted in 2009 by scientists and Ioannis S. Dona Artemis Arvanitoyannis, indicating that GM crops are associated with toxic effects, hepatic, pancreatic, renal, reproductive and immune and blood disorders and cancer effects. He said the study by Dr. Séralini in France (2012), where it studied the Monsanto GM maize planted in 700,000 hectares in Mexico, caused cancer in rats. In this regard, Rosset said that since Mexico is a country that consumes more corn than any other country, and because of the risks that have been observed in several studies for years, recommended that Mexico does not expose the public to GM Maize. He said the risk is greater for children who will be most affected. He considers it urgent to apply the precautionary principle, and cancel the transgenic, for future generations.
At the debate, the convening organizations, including urban, rural and students expressed their critical views on GMOs from their perspectives. They manifested their intent to stop the planting of GM maize and will continue through all struggles and will do all that they can to not allow the government to impose, against the interests of the vast majority of the population, GM Maize for the benefit of Government and a few multinationals. They agreed to promote further discussions, forums and activities, and strengthen the links between the organizations to avoid GM foods and crops. Also they will promote the widest possible participation in the pre-hearings on Corn and Food Sovereignty of the Permanent Peoples Tribunal, which among other topics will hold a pre-hearing of scientific evidence on GM and failures and corruption of the biosecurity system in the country.
Alvaro Mena called to the public to support the growth of 2013 becoming the "Year of resistance to transgenic corn and native corn in defense of life and independence of the peoples of the Maize."
Source: By Silvia Ribeiro, ETC Group researcher, Translated and edited by: Sylvia Lahoma Ponce de Leon, www.theyucatantimes.com/2013/02/1500-colonies-of-honeybees-die-in-campeche/