India Environment Minister, Jayanthi Natarajan, has been warned by 150 top scientists to think again about supporting GM crops.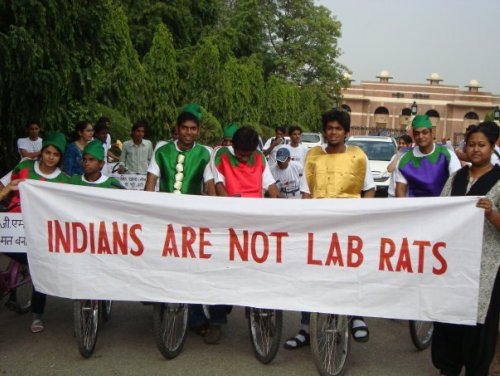 "The scientists primary concern is that the Ministry of Agriculture is allegedly making a case for GM crops by stating that the technology is 'absolutely needed' for India's food security.
They referred to a recent affidavit filed by the ministry of agriculture in the Supreme Court claiming that nation's food security will be jeopardized without GM crops. "It also argues that open-air field trials of GMOs are absolutely essential for this."
The scientists in their letter said that there are "many serious scientific and policy fallacies" in the argument made by the Ministry of Agriculture. This affidavit was filed in response to a Supreme Court appointed technical committee report on GM crops which had advised a ten year ban on GM crops because of its unpredictable impacts on the environment. It had also said that we have not conducted adequate research to confirm the safety of GM food crops.
On Saturday, the scientists and the GM free coalition of organisations also celebrated the third anniversary of a moratorium on transgenic Bt Brinjal which was imposed when Jairam Ramesh was environment minister and urged Natarajan to make sure that the moratorium is not lifted.
In response to Agriculture ministry's argument, the letter said: "An overwhelming majority of countries worldwide do not grow GM crops. They are grown on a mere 160 million hectares that comprise 3.2% of the global agriculture land. Just four crops cover 99% of the area under GM crops: soybean (47%), maize (32%), cotton (15%) and canola (5%)." It also summarised the experiences of various countries including the US who have commercialised GM food crops.
They quoted US Economic Research Service's report for 2011, which says: 17.9 million households were food insecure at some point in the year. "This means that an unprecedented 50.1 million people (1 in every 6 Americans) live in food insecure households in this nation that has the largest area under GM crop cultivation in the world, after having begun commercializing crops with this controversial technology way back in 1996." It said.
The letter also tries to dissociate the issue of food production with shortcomings of distribution. "Food security, is a problem not only of production but of distribution and access/purchasing power. Today India's paradox of overflowing godowns/rotting grains, with 320 million people going hungry is well-known. The world over and in India, most of the hungry people are ironically partaking in the food production process. Clearly hunger is a more multi-faceted problem than what can be fixed by using a particular seed or cocktail of chemicals," it explained.
The letter recommends various other approaches to resolve food insecurity in the country and urges MOEF to stress on agro-ecological approaches with low external inputs."
In other good news for the anti-gmo movement Hawaii has made its first step to labeling GMO foods.
Source: articles.timesofindia.indiatimes.com/2013-02-09/india/37006961_1_gm-crops-food-security-gmos