Fossil fuel-derived pesticides are a significant but overlooked source of greenhouse gases, warn campaigners. Use of pesticides, which includes insecticides, herbicides and fungicides, increased by 16.7% across the world between 2005 and 2020, according to Pesticide Action Network UK (PAN UK).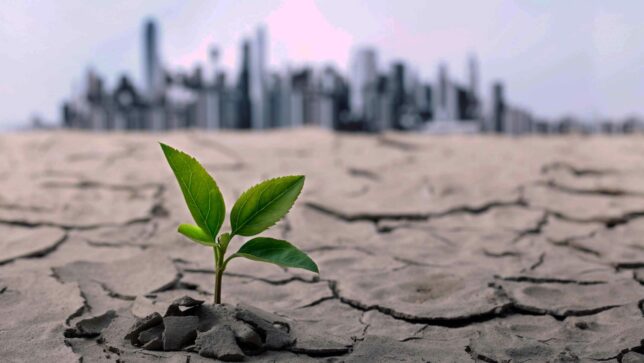 Source: Danny Halpin, pa.media
The group has published a report in which it points to a "vicious cycle" between pesticide use and climate change, with each causing more of the other. Some 99% of all synthetic chemicals, which includes pesticides, are derived from fossil fuels, with several oil companies such as Exxon, Shell and Chevron involved in their production, it pointed out.
Degradation 
Manufacturing, packaging, transporting and applying chemicals all produce greenhouse gas emissions and exacerbate climate change, as does the environmental degradation they cause, PAN UK said.
At the same time, hotter temperatures encourage the use of more pesticides by allowing for the spread of insects and plant diseases, creating a "vicious cycle", the report states.
PAN UK said the greater use of pesticides will disproportionately affect wildlife populations already under stress from climate effects such as higher summer temperatures and milder, wetter winters, and that organisms will become more resistant to the chemicals, further increasing pesticide applications.
The campaigners want the government to incorporate the reduction of pesticides in climate plans, introduce ambitious reduction targets, support farmers in using alternative methods to protect crops, and ban pesticides in urban areas.
Reduction 
Josie Cohen, head of policy and campaigns at PAN UK, said: "The government urgently needs to take a joined-up approach to tackling the climate and nature crisis, as they go hand in hand. The solutions to these emergencies must not undermine each other.
"The UK's net-zero target cannot be achieved without transforming agriculture, including a major reduction in pesticide use, which will also bring huge benefits to nature and biodiversity," she said.
The National Farmers' Union (NFU) has said that farmers only use pesticides when they have to, and that without them yields would fall, prices for consumers would rise, and that there would need to be twice as much land used to grow the same amount of food.
But PAN UK argued that the idea of using pesticides to ensure food security was a "myth", considering that they contribute to climate change, which weakens food security.
Glyphosate
It cited the herbicide glyphosate – which has been involved in a number of legal cases in the US because of its suspected impact on human health – as having a carbon footprint of 31.29kg of CO2e for each kilogram manufactured.
Globally, the amount of glyphosate used in 2014 was equal to fuelling 6.25 million cars for one year, the group claimed.
In the UK, glyphosate use has increased by 16% in the four years up to 2020, according to government data. This generated 81,410 tonnes of CO2e – equivalent to more than 75,000 flights from London to Sydney, PAN UK said.
Other pesticides are themselves greenhouse gases, such as sulfuryl fluoride, which is nearly 5,000 times more potent than carbon dioxide, the group said.
Glyphosate Box

Glyphosate Residue Free Certification for Food Brands – Click Here

Test Your Food and Water at Home for Glyphosate – Click Here

Test Your Hair for Glyphosate and other Pesticides – Click Here to Find Our Your Long-Term Exposure
Dr Doug Parr, chief scientist and policy director at Greenpeace UK, said: "Public understanding of the role that fossil fuel companies have played in driving the climate emergency has increased hugely in the last few years, and now we know that we need to add the pesticide industry to the list of climate polluters.
"Reducing the use of pesticides would be at least a double win in addressing nature decline and the climate crisis," he added.