A U.S. federal appeals court ordered the Environmental Protection Agency last week to fulfill its long-delayed mandatory duties to protect endangered species from the highly toxic insecticide cyantraniliprole.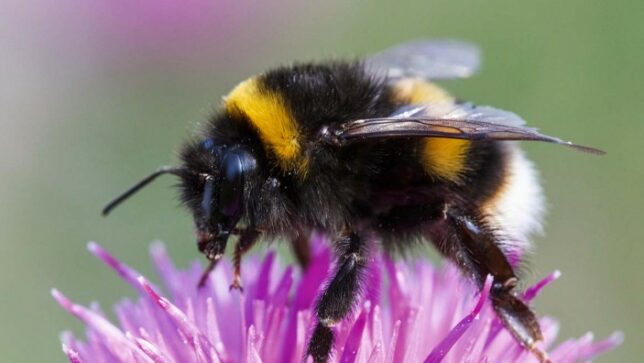 The ruling requires the agency to put protective measures in place by September 2023 and submit status reports every 60 days.
"We're pleased the court ordered the EPA to protect endangered bees and other wildlife from this extremely toxic insecticide," said Stephanie Parent, a senior attorney at the Center for Biological Diversity and co-counsel in the case. "It shouldn't take eight years and two lawsuits for the agency to carry out its fundamental duty to protect irreplaceable pollinators like the Fender's blue butterfly and the rusty-patched bumblebee."
Today's decision by the U.S. Court of Appeals for the D.C. Circuit comes after the EPA ignored the same court's 2017 ruling that the agency had failed to consider cyantraniliprole's potential harm to protected plants and animals before approving it.
In today's ruling the court ordered the agency to assess those harms, as required by the Endangered Species Act, and to replace its previous cyantraniliprole registration with one consistent with protections required by the Act, such as revised "labeling to include mitigation measures or limits on use."
"Today's decision is a vital victory for endangered species and the planet," said George Kimbrell, the Center for Food Safety's legal director and co-petitioner in the case. "As EPA has proven over and over with pesticides, the only way the agency will do its job is when forced by a court."
Even after finding that cyantraniliprole is "highly or very highly toxic" to hundreds of endangered species, the agency authorized widespread uses of it in both agricultural and urban areas without measures to safeguard protected species.
In addition to being a highly toxic systemic insecticide, cyantraniliprole remains in the environment for years after use. The EPA's risk assessment found the pesticide has a half-life of 1,327 days in the soil, meaning half of the pesticide remains in the soil for more than three and a half years after it is applied. Cyantraniliprole use has increased exponentially since the agency registered it in 2014, according to research by the U.S. Geological Survey.
In several other cases when the EPA has been forced to analyze pesticides' impacts to endangered species the agency has found widespread harm.
Last year the agency determined that the nation's two most-used pesticides — endocrine-disrupting atrazine and cancer-linked glyphosate — are each likely to harm more than 1,000 of the nation's most endangered plants and animals.
As a result of ongoing pressure from the environmental community, earlier this year the EPA released its first-ever comprehensive workplan to address the challenge of protecting endangered species from pesticides. The agency is also initiating pilot programs focused on reforming the pesticide-approval process to correct violations of the Endangered Species Act.