As more health-conscious consumers seek to avoid toxic chemicals and pesticides in their foods, The Detox Project reported the "Glyphosate Residue Free" (GRF) certification market grew more than 20% in the past year to nearly $800 million, with a growing number of companies seeing the value of displaying the certification seal on their products.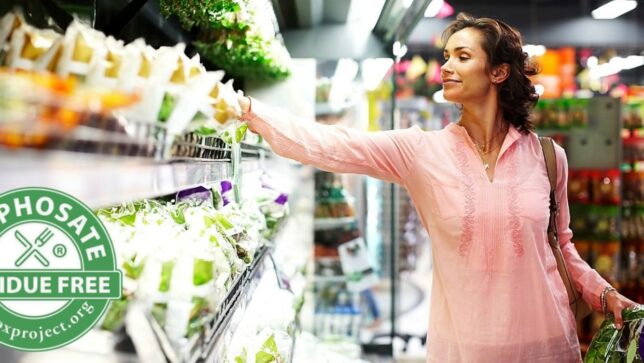 Third-party, independent data from leading natural and organic products industry market research firm SPINS, revealed that the Glyphosate Residue Free certification market reached USD $778 million in Q3 of 2022, an increase of 21.2%YoY. Glyphosate Residue Free certification is now one of the fastest growing certification programs in the U.S. and the world. The certification verifies that a specific food, dietary supplement, or personal care product does not contain glyphosate residues.
"It's getting increasing tougher for consumers to decipher what products are truly healthy in the market. Certifications like Glyphosate Residue Free give them piece of mind that the products they certify are clean and safe for consumers and their families. That trust and assurance is proven in the growth and impact in sales for products that carry the Glyphosate Residue Free Certification.", says Megan Mahon, SPINS Product Intelligence Partnerships Program Manager.
Glyphosate is one of the world's most widely used pesticides, applied primarily as an herbicide and often also as a pre-harvest drying aid in major crops such as oats, wheat, and pulses. Outside of agriculture it is widely used as a weed killer for parks and gardens in products such as Roundup. As consumers become aware of the dangers of glyphosate contamination in their food supply, many are turning to the Glyphosate Residue Free certification seal for peace of mind as they choose their groceries.
Leading Brands Display the Glyphosate Residue Free Certification Seal
Responding to consumer concerns over glyphosate, leading natural, organic and specialty brands such as Oatly, Chobani, Califia Farms, MegaFood, Chosen Foods, Puris, Uncle Matt's Organic, Jovial Foods and Nutiva are amongst the more than 100 brands that have certified some or all their products as Glyphosate Residue Free (GRF). The American e-commerce membership-based retailer Thrive Market has also thrown its support behind the GRF certification.
"Natural brands in food, personal care and supplements are taking notice because the Glyphosate Residue Free seal is beginning to gain traction in retail buying circles," said Henry Rowlands, Executive Director of The Detox Project. "The Glyphosate Residue Free certification program is our most important work because it brings widespread awareness of this toxic chemical that has been proven harmful to both humans and the environment. I am thrilled to see the increase in companies using the certification and happy to know that consumers have this information to use when choosing groceries for their families."
Glyphosate has been a major topic on social media and in the mainstream media over the past few years with three focal points creating quite a stir:
A Working Group of 17 experts from 11 countries met at the International Agency for Research on Cancer (IARC) on 3-10 March 2015 to review the available published scientific evidence and evaluate the carcinogenicity of five organophosphate insecticides and herbicides: diazinon, glyphosate, malathion, parathion, and tetrachlorvinphos. The review led to IARC classifying glyphosate as 'probably carcinogenic to humans'.
In 2020 Bayer agreed to pay more than $10 Billion to settle cancer suits that were bought against the company due to the fact that their glyphosate-based herbicide Roundup causes Non-Hodgkin's Lymphoma.
Multiple recent studies have shown that glyphosate-based herbicides are causing massive damage to pollinators, which are the backbone of the global food supply.
Consumers have been paying close attention and the interest in avoiding this toxic chemical is only set to grow.
About the Glyphosate Residue Free Certification Program
Glyphosate Residue Free certification verifies that a specific food, supplement or beauty product does not contain the World's most used herbicide. Glyphosate Residue Free certification is one of the fastest growing certifications in the U.S. and around the world and you can find the brands and the products that are already certified here. A third-party ISO 17025 accredited laboratory regularly tests certified products to make sure they do not contain glyphosate residues. To be certified Glyphosate Residue Free products must have no glyphosate residues down to government-recognized limits of detection (LODs) for food, commodity, and supplement samples (usually 0.01 ppm), and lower levels than default government Maximum Residue Limits (MRLs) in the European Union and Japan.