The Glyphosate Residue Free market grew by a massive 170% year on year, with an increase of market size from $197 Million to $533 Million.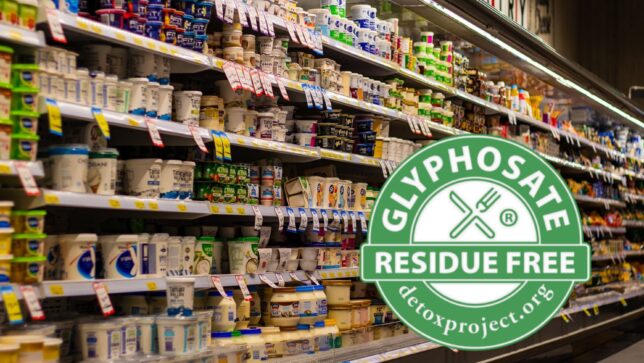 The Detox Project released their latest data on the Glyphosate Residue Free certification market on Tuesday, after reviewing Q1 2021 data provided by their exclusive data partners SPINS.
SPINS, which is the leading provider of data and insights for the natural, organic and specialty products industry, revealed through their data that the Glyphosate Residue Free certification market has reached USD $533 Million, an increase of 170% YoY.
Glyphosate Residue Free certification is a relatively new seal, having been launched by The Detox Project in 2017. Since its introduction it has caught the attention of brands and consumers alike, with a concentration of interest in the U.S. and more recently also internationally.
Linkage Research & Consulting also recently revealed, in a large-scale Internet-based study, that consumer recognition of Glyphosate Residue Free certification has surged. It is now one of the fastest growing certifications in North America.
Brands such as Oatly, MegaFood, Chosen Foods, Califia Farms, Chobani, Wedderspoon, Puris and Once Upon a Farm are amongst the 90+ brands that have certified some or all of their products as Glyphosate Residue Free. The American e-commerce membership-based retailer Thrive Market has also thrown its support behind the certification.
The Detox Project Predicts More Transparency
The Detox Project, a research and certification platform that supports transparency in the food and supplement industries on the subject of toxic chemicals, set up Glyphosate Residue Free certification with the hope of educating more people about the dangers of the world's most used weedkiller entering the food supply.
Henry Rowlands, Director of The Detox Project, stated Tuesday that "it is encouraging to see that consumers are becoming more aware of the harm that environmental toxins such as glyphosate can cause to themselves and their families. We support a toxic free future for our children and this can only be reached through mass public awareness.
"Food and supplement brands play a vital role in keeping consumers safe from toxic chemicals. The unsustainable industrial agricultural system, which has been poisoning the planet for so many decades, Is based on one single chemical – glyphosate. It is about time that we move towards a more regenerative future with glyphosate-based weedkillers left in the past, where they belong," Rowlands concluded.
Brand Quotes:
"Being a first to market "regeneratively farmed" family food company, we pride ourselves on offering our consumers total transparency as regards all ingredients that we use in our products. Working with The Detox Project for some years to showcase their "Glyphosate Residue Free" certificate has been a huge asset to our business and well received by our consumers." – Keith Rowe, Co-Founder, White Leaf Provisions
"All of our products carry the promise of being "Inherently Good".  Working with The Detox Project has enabled us to give our consumers even more tangible, transparent assurances that we are doing everything we can to live up to that motto. The feedback – and sales bump – from making this move has been incredibly positive. Thank you The Detox Project!" – Frank Bergin, President, Jovial Foods
"Babies are among the most susceptible to the detrimental effects of pesticides. We're so grateful to The Detox Project for providing a tool that keeps parents informed and helps maintain the safety of our products. Kabrita USA's formula is proud to be the only formula sold in the US that is certified Glyphosate Residue Free by The Detox Project." – Kabrita USA
"We keep looking for quality testing and certifications to win trust within our customers and then we found Glyphosate Residue Free certification, after having our products tested and certified we saw an immediate increase in our social media presence and our business increased by 30% in three months! Mostly our customers are from India and Germany, they loved to know about glyphosate. We wholeheartedly recommend glyphosate certification to everyone."  If you're serious about quality, you need Glyphosate Residue Free certification." – Dr. Rico Fuchs, CEO, Naturaltein
"We are very serious about providing the highest-quality, cleanest ingredients to our customers, and being certified Glyphosate Residue Free has been a big part of realizing that mission. Watching the market of certified companies grow as much as it has demonstrates a major step forward in making products on the market both safer for people and better for the environment." Bluebird Botanicals
"Each person holds the power to influence others, either in a positive or negative way. At Nuvita we strive to positively impact every single person we serve. We do this by offering only the cleanest, organic and glyphosate free cannabis products on the market. Together, we can make the change to eliminate glyphosate once and for all!" – Amanda Fata, Founder and CEO of Nuvita
"We craft HOMEMADE INDULGENCES for FREE-FROM FAMILIES through a CARING & PLAYFUL Experience that DELIGHTS & SATISFIES – serving up Homemade moments WITHOUT COMPROMISE. We accomplish this by procuring only the highest quality ingredients. Along with gluten-free, fair-trade, vegan, Glyphosate Residue Free Oats are just as important. Oats make up more of our cookie than any other ingredient. Thankfully for us we had The Detox Project to help navigate and certify our Hunks." – Casey Webber, CEO and Founder of E&C's Snacks LLC, Heavenly Hunks
"The prevalence of glyphosate across our food and water systems acts as an antibiotic to the microbiome, undermining the health and vitality of our soils, plants, animals, and humans. By eliminating glyphosate and moving toward regenerative farming practices, we have the potential to maximize biodiversity and adaptation, thereby witnessing an explosion of life never seen before on planet Earth." –  Zach Bush, MD, Founder of ION*Gut Health
"Wedderspoon is proud to have been one of the first honey brands certified by The Detox Project.  Our consumers are delighted to know that Wedderspoon does not contain any Glyphosate and that we support sustainable farming practices for humans and bees." – Rebecca Remley, CEO of Wedderspoon Organic
"Our honey—Red Belly Honey is the only full-spectrum CBD honey-infused by bees—the fact that it also has been certified Glyphosate Residue Free puts it over the top and only solidifies even further that cannabis is food and clean food is medicine. We are so proud to display our badge to the world of culinary cannabis and carry it with us in the natural product food space." – Joline Rivera, Founder of Red Belly Honey
"Back Road Food Company, dba Back Roads Granola, is the first granola & oats company in the world to become Certified Glyphosate Free by the Detox Project. This third-party certification furthers our commitment to consumers everywhere, demanding 'clean' organic foods from trusted brands. Since becoming certified, we've had nothing but praise (and increased sales), from our customers, old and new. We're educating folks, too, who are still unaware of the dangers of consuming this deadly herbicide." – Virginia Vogel, Co-Owner, Back Roads Food Company
"Beginning in 2014, through the efforts and expertise of MIT researcher Dr. Stephanie Seneff, we became acutely aware of the dangers of pesticides in general and glyphosate in particular. This research provided us the information and impetus to test our products to ensure that Radiant Life products are free of this and other environmental toxins. Many thanks to Henry Rowlands, Director of The Detox Project for his leadership in raising consumer awareness across the world and providing visibility about products that are tested and certified to be Glyphosate Residue Free." – Norman LeMoine, President, Radiant Life
"Ananda Health (hemp-derived CBD products) is proud to work with The Detox Project as part of our rigorous quality and transparency programs. By showcasing the Glyphosate Residue Free seal in conjunction with our third-party certificate of analysis results, our customers can be certain our products contain the active cannabinoids they are paying for and do not contain harmful or dangerous chemicals such as glyphosate." – Alex Nance, Chief Operating Officer, Ananda Health
"At Rebel Kitchen we pay close attention to our ingredients. As a 100% organic brand we have a duty to ensure our products are free from toxic chemicals. With so much contamination even in the organic supply chain The Detox Project's Glyphosate Residue Free Certification gives us and our customers the assurance that our products are truly free from the mostly widely used toxic herbicide." – Anna Van Der Hurd, Head of Sustainability, Nurture Brands