In September 2020, India's Narendra Modi government circumvented parliamentary procedures to push through three bills that eased restrictions on private players in agricultural markets. The move enraged farmers—especially in the northwestern state of Punjab, an epicenter of the Green Revolution since the 1950s. After protesting in vain for two months, tens of thousands of Punjab farmers began a march to New Delhi in late November. The Modi government responded by deploying paramilitary troops armed with water cannons and tear gas shells, and protected by barricades, concertina wires and deep trenches dug into freeways at the borders of the capital city.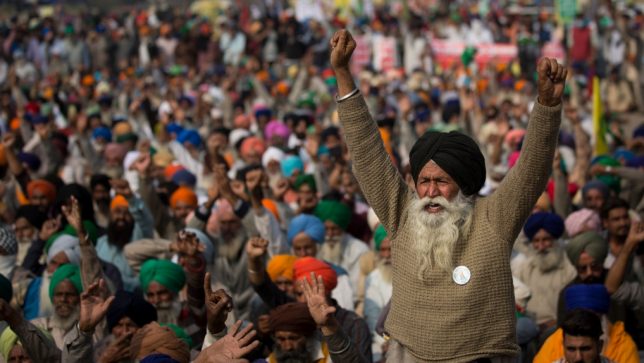 Source: www.scientificamerican.com/
The demonstrations have since spread across the country and represent the largest-ever mobilization of farmers in independent India. They have already claimed over 70 lives; many have died of the cold and some have committed suicide as a political statement. The standoff is not just about the repeal of the three laws, but also includes the demand that the state guarantee minimum support prices (MSPs) for all public and private purchases of produce. In a broader perspective, however, this agitation is writing the obituary of the Green Revolution.
The Green Revolution—essentially the promotion of capital-intensive industrial agriculture—was more of a Cold War stratagem than a humanitarian initiative, as recent histories have forcefully argued. After independence in 1947, peasant movements led by communists had mounted fierce pressure on the Indian National Congress, the ruling political party, to redistribute land from landlords to peasants.