A group of indigenous and afro-descendant communities in the Nariño region of Colombia has successfully taken legal action to suspend the national glyphosate aerial fumigation program, which was set to re-start in 2021.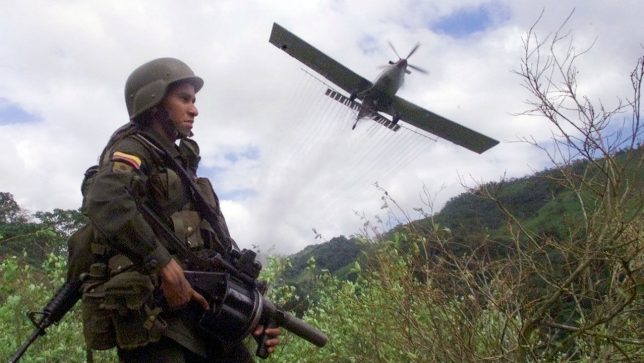 The Colombian Government's Environmental Management Plan (EMP) of the fumigation program identified a number of municipalities in December 2020, in which they were set to start the controversial aerial fumigation program using glyphosate-based herbicides to control coca crops.
However, a group of indigenous and afro-descendant communities in the Nariño region filed a tutela in the Supreme Court of Pasto, to suspend the aerial spraying due to the unknown direct health and economic consequences on local communities. The Supreme Court agreed with the tutela and suspended the EMP last week.
What is a tutela?

The Colombian tutela was established in the 1991 Constitution as an action to provide the immediate protection of one's fundamental constitutional rights, when any of these are violated or threatened by the action or omission of any public authority'
In addition to the recent tutela, in September, the global Center for Reproductive Rights and its local partners at the Cali, Colombia-based Universidad del Valle published a research report showing that the glyphosate-herbicides used in the fumigation program has negative effects on people's reproductive health.
Using the findings from their study, the partners called on the Colombian government to stop the program from moving forward.
For more than 20 years, the Colombian government utilized aerial fumigation of coca fields as a weapon against the country's illegal cocaine trade. Colombia suspended this program in 2015 after experts found that glyphosate had damaging effects on both environmental and human health. However, in response to increased coca cultivation, the Colombian government had planned to reinstate the use of glyphosate this year, despite the known risks.
Glyphosate Box

Glyphosate Residue Free Certification for Food Brands – Click Here

Test Your Food and Water at Home for Glyphosate – Click Here

Test Your Hair for Glyphosate and other Pesticides – Click Here to Find Out Your Long-Term Exposure
The scientific study, conducted by the Universidad de Valle and supported by the Center, is a systematic review of other animal, human and in-vitro studies, as well as insights from public health, medicine, and legal experts. The research concludes that there is "clear evidence of the negative effects of glyphosate on reproductive health," including impacting hormone levels and reproductive tissue, as well as causing miscarriage.
The campaign against glyphosate fumigation has also been marked by tragedy, as one of the leaders of the Afro-Colombian communities in northwestern Colombia, Patrocinio Bonilla a.k.a Patrón, was assassinated on August 11 2020, in a killing that was linked to his support for agroecology and his struggle against the aerial spraying in the region.