The European pesticide regulation and its implementation need to be improved, says a draft report from a committee of the European Parliament, published Thursday. The report calls for more transparency, stating that the public must have access to the full studies that the European Food Safety Authority (EFSA) relies upon to form its opinions. It also emphasises that studies from the scientific peer-reviewed open literature should be given the same weight as industry studies.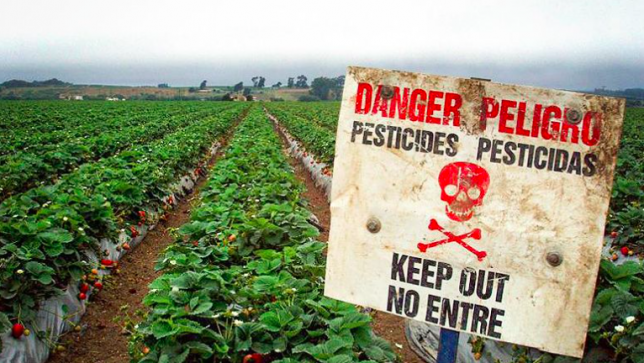 Source: GM Watch
The Special Committee of the European Parliament, called the PEST Committee, was set up to investigate the European Union's authorisation procedure for pesticides (PEST Committee) in the wake of the controversy over the EU's decision to re-authorise glyphosate for five years.
The PEST Committee's draft report points out the shortfalls of the procedure and presents recommendations. The report comes at the end of five months of discussions and parliamentary hearings.
Pesticide Action Network (PAN) Europe welcomed the report and emphasised that there is an urgent need for reform of the pesticide risk assessment procedure in Europe. PAN commented in a press release that the collapse of biodiversity and wildlife in proximity to agricultural zones and the abnormally high rate of development of diseases in farming families and residents in agricultural areas demonstrate that humans and the environment are not sufficiently protected from pesticide exposure, as is required by EU law.
The PEST Committee report highlighted several shortfalls:
There is a lack of post-marketing monitoring to find out the levels of pesticides that farmers, residents of agricultural areas and the environment are really exposed to and evaluate the consequent adverse effects they may cause.
The quality, expertise, independence and transparency in safety assessment of pesticide active ingredients, co-formulants, and pesticide products needs to be improved.
There should be greater focus on long-term toxicity and neurotoxicity from low doses.
All studies used in the assessment must be made publicly available.
All available scientific literature should be used in the evaluation procedure – not only or mainly industry studies.
An application must be approved only when it is complete and all data requirements have been provided.
Measures to mitigate the effects of pesticides should be implemented in Member States and their effectiveness should be monitored in real time.
The report also criticises the practice used in the EU glyphosate assessment, whereby German authorities – Germany was the "rapporteur member state" (RMS) on glyphosate – copy-pasted text from industry's application dossier without acknowledging that this was the industry assessment rather than its own independent assessment. EFSA in turn based its own assessment of glyphosate's safety on this copy-pasted material.
The PEST Committee denounces this copy-paste plagiarism practice. It states that the rapporteur member state should independently evaluate industry's raw data and "clearly demonstrate… that all studies have been properly checked for their relevance, scientific quality and validity, and if necessary to include further studies that were considered as not relevant by the applicant."
The PEST Committee also recommends that "the RMS should limit reproducing paragraphs to a minimum and only to justified cases" and "insists that, as long as the assessment is made by the applicant, should passages be taken from the application dossier a clear distinction should be made between the assessment of the authority and the assessment of the applicant."
Omissions of PEST report
PAN expressed regret that "no recommendation is given for safety testing of pesticides to be carried out by independent laboratories rather than the pesticide industry itself". PAN added that the report also fails to recognize that "all experts involved in risk assessment should be subject to a strict conflict of interest policy and rules. Any ties to commercial interests should exclude experts from the process, as well as from the designing of the testing methods and risk assessment guidelines."
Hans Muilerman, PAN Europe's chemicals officer, said, "The report of the PEST Committee rightly mentions many of the flaws of the current pesticide risk assessment, but fails to include independent safety testing, now done by industry itself, and fails to address the lack of independence at EFSA panels where half of the experts have industry links and should be replaced by top-level academic scientists."