Chosen Foods and Heavenly Organics have started a wave of Glyphosate Residue Free certified brands in the U.S., in what is being described as a "consumer-based push for transparency".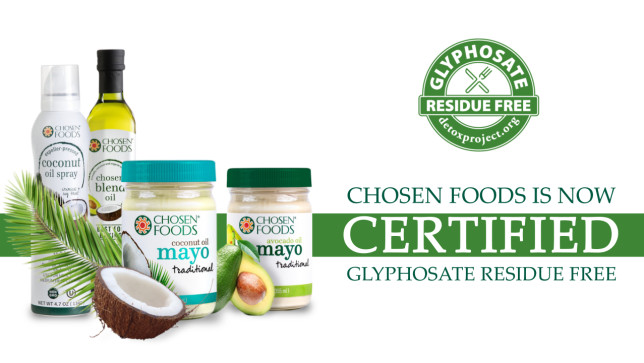 The past week has seen the first wave of Glyphosate Residue Free brands entering the U.S. grocery market and many large brands including USDA organic and non-GMO certified brands have shown deep interest in the new certification.
Why are brands interested in Glyphosate Residue Free certification?
Glyphosate is the most used pesticide in the World and has the highest public profile of any chemical used in food production. It has been found in a range of popular American food products and in the urine of 93% of people tested by the University of California San Francisco (UCSF).
The revelation from WHO's International Agency for Research on Cancer (IARC) in 2015 that glyphosate is a 'probable human carcinogen' has led to consumers around the World asking for transparency regarding the levels of glyphosate in their food.
Henry Rowlands, Director of The Detox Project (owner of the Glyphosate Residue Free label), stated on Tuesday that "Glyphosate Residue Free certification enables food manufacturers to give consumers what they really want – glyphosate residue free food.
"Currently the toxic chemical testing standards for both non-organic and organic food are very weak but we aim to change this by certifying ingredients and food products – consumers have the right to know what toxic chemicals are in the food they buy at grocery stores across the U.S."
Chosen Foods
9 products certified Glyphosate Residue Free, including their famous 100% Pure Avocado Oil.
Chosen Foods was founded by a well-traveled Naturopathic Doctor who discovered the powerful effect traditional foods were having in their native cultures. He was inspired to share these ancient superfoods with the rest of the world – and so their journey began.
In the last 3 years, Chosen Foods has launched 15 cooking oils, condiments, ancient grains and snacks. They have gone from 5 to 30 employees and seen their products reach more then 24,000 grocery store shelves around the United States and Canada.
Heavenly Organics
9 products certified Glyphosate Residue Free, including their Acacia, Neem and White Honey
Heavenly Organics supports nearly 600 family farmers in India and produces 100% Organic Raw Honey, Chocolate Honey Patties and 100% Organic Whole Cane Sugar.
Their work helps displaced people find markets to sell their goods and ensures them a reliable income.  Without it, their means of livelihood would be very limited.  For the past decade, Heavenly Organics has been leading the authentic fair trade movement and creating big change.  Their goal is to increase the number of farmers they work with to 5,000 in the next five years and to extend this business model into other countries to help create long-lasting sustainable economies in other isolated areas and conflict zones.