Following a discussion Tuesday with Vytenis Andriukaitis, the Commissioner for health and food safety, Socialists and Democrats in the European Parliament voiced their rejection to his proposal to re-authorize glyphosate for ten years without any specific restrictions.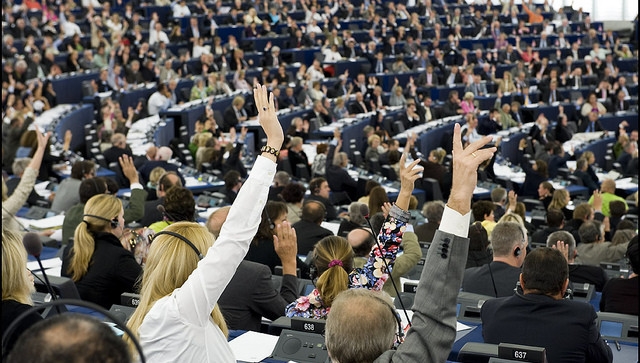 S&D spokesperson on glyphosate, Pavel Poc MEP, said:
"This is completely unacceptable. I am shocked to see that the Commission is totally ignoring European citizens and favoring the industry, especially when it comes to use in public areas, non-professional uses and misuse of this widely used substance.
"The contrasting assessments by the European Food Safety Authority (EFSA) and the WHO agency (IARC) on the safety of glyphosate show the need to revise the whole authorization process for pesticides in the EU in favor of more transparency, efficiency and democratic control."
S&D spokesperson on health and environment, Matthias Groote MEP, said:
"The decision by the Parliament cannot be ignored. Last week we passed a resolution which was already very balanced: it restricted the use of glyphosate for seven years, and only to those cases where no alternative methods exist, but banned it in pre-harvest agricultural use, in public parks and in playgrounds.
"This Parliament exercised its controlling function, based on the precautionary principle. Today we told the Commissioner to respect this principle and to listen to the citizens."
THE GLYPHOSATE BOX

10 Things You Need to Know about Glyphosate

5 Things You Need to Know about Glyphosate Testing
According to a leaked proposal the European Commission plans to propose a 10-year renewal of the authorization of glyphosate with none of the restrictions on non-professional use that the European Parliament wants.
Earlier in April the European Parliament supported a new 7-year approval for the World's most used herbicide glyphosate. The European Parliament vote had a silver lining despite the disappointment of some groups who were targeting a full ban on the probable human carcinogen.
GM Watch stated : "While this is not the ban that we and many groups wanted, the European Parliament asks for significant restrictions on glyphosate use":
No approval of non-professional use
No approval in or close to public parks/playgrounds/gardens
No approval where integrated pest management systems are sufficient for necessary weed control
Strict limitations on pre-harvest applications (desiccation), which are deemed unacceptable
This European Parliament vote to re-approve glyphosate for 7 years as opposed to the usual 15 years is non-binding on the Commission and EU member states, but arguably carries moral weight. The EU member states will take the final vote in May.