Despite a new poll published Monday suggesting that 76% of Americans expect that a non-GMO dairy label would mean the cows were fed non-GMO feed, a "Trojan horse" paragraph in Bill H.R. 1599, also known as the DARK Act, is set to deliver the exact opposite to consumers, as well as a massive boost to the Biotech industry.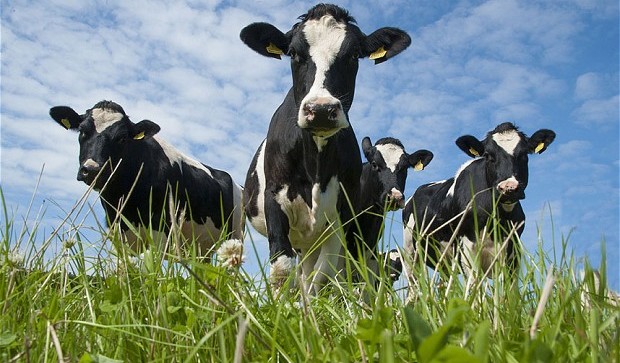 SUSTAINABLE PULSE EXCLUSIVE
Warren Taylor, Co-Owner of Snowville Creamery in Ohio, stated Monday; "The DARK Act affirmed the U.S. government's refusal to require GMO labeling despite almost universal public desire for GMO labeling. It makes labeling a federal function, so individual states cannot pass unique labeling laws. This is a common sense requirement in today's marketplace. The most egregious part of the Act went almost completely unnoticed. A single Trojan horse paragraph at the end of the non-GMO product labeling section allows meat, milk, and eggs from animals fed GMO feed to be labeled as non-GMO. In this way the DARK Act went from not telling to actively intentionally misleading the public about the GMO content of meat, milk, and eggs."
Snowville Creamery recently commissioned a poll carried out by Public Policy Polling which found that 76% of people expect that a non-GMO dairy label would mean the cows were fed non-GMO feed. The full results of the poll can be found on the Home Page of Snowville Creamery's website.
The "Trojan horse" paragraph is a huge boost to the Biotech industry in the U.S, which relies very heavily on GMO feed for animals. Of the two largest GMO crops in the United States, an estimated 98% soy and 79.5% of corn goes directly into feeding animals and fueling cars.
The scandalous paragraph, that seems to have been placed with intent on page 19 of the DARK Act, contradicts and is expected to take legal precedence over a similar paragraph on page 17.
The text of the paragraph on Page 19 reads:
"(d) Treatment of Livestock – In the case of a covered product derived from livestock that is marketed in the United States for human consumption, the covered product shall not be considered to be genetically engineered solely because a livestock consumed feed produced from containing, or consisting of a genetically engineered plant."
Andy Barker, Social Mission Strategy and Policy Manager for Ben & Jerry's told Sustainable Pulse Monday; "Ben & Jerry's opposes HR1599 (aka the DARK Act) in its entirety. We don't support the voluntary approach it proposes for GMO labeling or the exemptions it would create. We fought hard to help win mandatory GMO labeling in Vermont and we don't want the DARK Act to undo that progress."
This text is unique Worldwide, as the legal guidelines currently both in the U.S. and elsewhere state that animal products from GMO fed animals cannot be labeled non-GMO. For example in Germany the law states the following (section VI. Restrictions on GMOs in Foodstuffs):
"To market food that is free of even traces of GMOs, Germany allows the use of a label indicating "No Genetic Engineering" (Ohne Gentechnik).  Under the auspices of the German authorities, this label is administered by an association that supports GMO-free food. In order to qualify for this label, a food must be free of traces of GMOs, and the additives and dietary supplements in such foods must also be free of GMOs.  For meat and meat products to qualify for the label, the animals must have been fed a GMO-free diet for lengthy periods before slaughter."
Dave Murphy, Founder and Executive Director of Food Democracy Now! stated: "This new plan worked on by Congress alongside American food and chemical companies intends to hide the U.S. meat and dairy industry's dirtiest secret; the fact that more than 99 % of their animals are fed GMOs for their entire lives. These products should have a label on them stating 'fed with genetically engineered grains' in an effort to make sure new GMO labels do not artificially distort the marketplace against organic farmers and those already using non-GMO feed and to conform to consumer expectations. America's largest food companies have hidden GMOs in our food supply for 20 years, we can't allow them to get another special interest loophole to provide cover for the meat and dairy industries."
Despite some U.S. retailers, such as Whole Foods, having policies that state animal products that come from animals which are fed GMO products will be labeled with; 'Animal feed may contain ingredients produced with genetic engineering', U.S. consumers will find it difficult to find out if the animals that produce the meat, dairy or eggs they buy have been fed GMO feed or not, if the Dark Act passes through the U.S. Senate.
Take urgent action to Stop the Dark Act Here