Yesterday, three of the world's largest agrochemical companies filed a lawsuit against the County of Kauaʻi to block implementation of the recently passed Kauaʻi Ordinance 960 (formerly known as Bill 2491). Syngenta, DuPont Pioneer Hi-Bred, and a Dow Chemical subsidiary filed the lawsuit in federal district court on Oahu.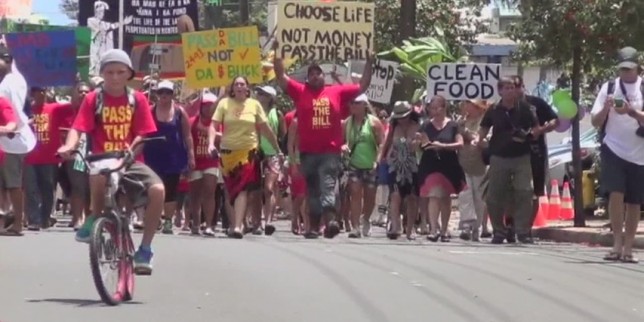 Ordinance 960 establishes buffer zones around sensitive areas such as schools and hospitals, mandates disclosure of pesticide use, and instructs Kauaʻi County to complete a health and environmental impact study. It is set to take effect in August 2014.
The chemical companies currently use pesticides that are banned in many other countries, in the open air, next to schools and homes. Documents revealed in another lawsuit show that these experimental operations spray restricted-use pesticides 250-300 days a year, 10-16 times per day.
In several incidents, students at Waimea Canyon Middle School fell sick after Syngenta pesticide spray drifted into the school yard. Director of the Hawaiʻi State Teachers Association Tom Perry recounted the incident in public testimony: "There were ambulances where students were getting sick in large numbers along with the teachers. They sent the kids to the hospital… We couldn't find any way to stop the spraying… we had to file, for the first time in the history of HSTA, a temporary restraining order."
In the lawsuit filed by the chemical companies, they acknowledge that they, "chose Kauaʻi because its climate is uniquely conducive to [our business] of developing innovative GM products for sale on the mainland and internationally." Residents expressed frustration that while they admit the benefits they reap from doing business on Kauaʻi, they have been unwilling to address the grave concerns of doctors and nurses, environmental scientists, teachers and parents over the constant use of a laundry list of pesticides.
Malia Chun called the lawsuit "shameful," stating, "As a west side resident who is surrounded by the test fields of these companies, it is my basic human right to know what they are exposing me and my family to on a regular basis. Their actions prove that they do not value the health and well-being of our community, and are only interested in their corporate profit."
Earthjustice Managing Attorney Paul Achitoff noted, "The chemical industry has been using bullying and misinformation all along to try to derail this law. They consider their impacts on the health of Kauaʻi's residents as collateral damage. We look forward to defending Kauaʻi's families and its environment, and are confident justice will prevail."
George Kimbrell, Senior Attorney with the Center for Food Safety, said "Kauaʻi's ordinance is a sound and well-crafted law. The industry's challenge is without merit, and we will vigorously defend it."