Luxembourg's government has finalized and put up for consultation a regulation for the introduction of the label 'Reared without GMOs' for milk, meat and eggs.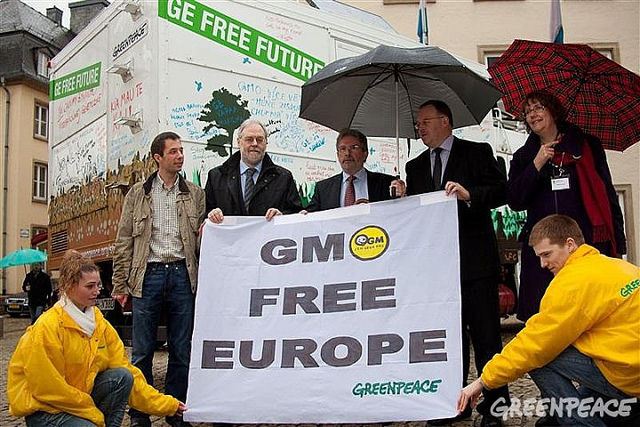 The first pilot products (milk and eggs) from the sector 'Reared without GMOs' are already on sale in Luxembourg. Germany and France have already introduced this scheme for meat and dairy products which have not come in to contact with GM feed.
In a joint interview on Monday Luxembourg's ministers, Mars Di Bartolomeo (Minister of Health), Romain Schneider (Minister for Agriculture, Viticulture and Rural Development) and Marco Schank (Minister for Sustainable Development and Infrastructure), gave a positive summary of Luxembourg's GMO policy in recent years. In order to protect biodiversity, agriculture and consumer health from GMOs , Luxembourg is firmly committed at the national and European level to the application of  precautionary principles regarding GMOs.
The only two GMOs ( MON810 maize and the Amflora potato) authorized for cultivation in the European Union are prohibited in Luxembourg. At the European level, Luxembourg was at the heart of the coalition of Member States which opposed new GMO authorizations in the European Union and pledged to launch an evaluation system taking into consideration the long-term effects of GMOs on the environment and on consumer health.
The GMO Picture in Luxembourg
The Government of Luxembourg banned the the cultivation of Monsanto's GM Maize MON810 in 2009.
There have also never been any field trials of GM crops in the country.
80 municipalities (out of 116 in Luxembourg) have declared themselves as "GE free", meaning that there is no cultivation of GM crops and no use of genetically modified products (labelled products) in public establishments (canteens etc.).
Around 189 farmers (10 000 hectares) also signed an individual declaration for no cultivation of GM crops. (There are 2200 farmers in Luxembourg)
Naturpark Obersauer, one of Luxembourg's two nature reserves has published an official declaration to encourage its own municipalities and farmers to refuse GMOs.