France's last-remaining experimental open field trial of GMOs has been stopped. The National Institute of Agronomic Research (INRA) ended the trial by destroying 1000 GM poplars that have grown since 1995 in Saint-Cyr-en-Val, near Orléans (Loiret), a research site of 1300 square meters.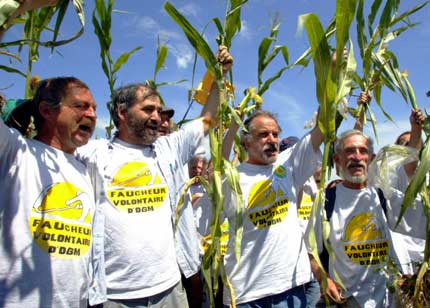 Audrey Garric

Le Monde, 17 Jul 2013

GMWatch English translation of French original (shortened)
The properties of the transgenic trees were being studied to improve the manufacture of pulp and, since 2007, in an attempt to produce 2nd generation biofuels such as bioethanol from poplar biomass.
The reason for the decision to stop the trial: the lack of government approval for the continuation of this scientific work. "Given the time of hearing of the application for renewal of the test, to the particular climatic constraints of the spring of 2013 and their influence on the experiment, and in the absence of the expected approval, INRA had to decide on Friday, July 12 to definitively destroy the genetically modified poplars," said the institute in a press release.
LATE FILING OF RECORD
What happened to make INRA fail to obtain renewal of a license for an experiment that ran for five years, from 2007 to 2012? First problem: the organization filed its application on 20 December, 11 days before the expiration of the current authorization. However, the case should be subject to review both by the Scientific Committee and the Committee on Economic, Social and Ethical (CEES) of the High Council of Biotechnology (HCB), before a public inquiry, and then the final joint decision of the Ministers the environment and agriculture. A long process, minimum 90 days…
DIVISION OF EXPERTS
Meanwhile, the case … divides the HCB: though its scientific committee concludes that there is no danger to human health or the environment, the CEES believes that the research should not be renewed and denounced its "poorly defined goals, a fuzzy argument, and a collective limited usefulness."
The CEES wonders about the economic opportunities of these tests. In fact, in eighteen years, the INRA research has given rise to around fifteen scientific publications but have not resulted in any industrial application, and no economic partner is showing an interest now…