The Organic Consumers Association (OCA) today called for a national boycott of the popular natural and organic brands owned by 10 companies including PepsiCo, Kraft and Coca-Cola amongst others that donated to defeat Prop 37, the California Right to Know GMO labeling initiative.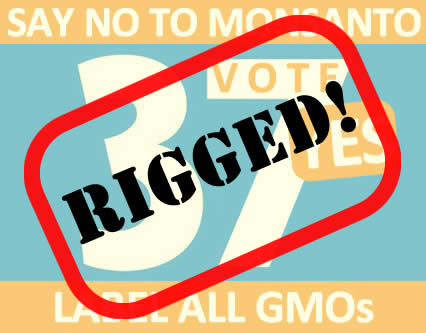 The OCA is also calling on other consumer protection groups, and public health, agriculture, natural health, environmental and political groups to urge their members and supporters to participate in the boycott.
"Among the largest bankrollers of the NO on 37 campaign were huge multinational food and beverage companies whose subsidiaries make billions selling popular organic and 'natural' brands," said Ronnie Cummins, Director of the OCA and the Organic Consumers Fund, which donated more than $1 million to the YES on 37 campaign. "It's time to send these companies a message: Either start supporting GMO labeling initiatives, including the upcoming one in Washington State, or consumers will stop buying your products," Cummins said.
Prop 37 was narrowly defeated on Nov. 6, thanks to a relentless, deceitful $46-million advertising blitz. Among the food companies that helped to defeat the measure were:
    PepsiCo (Donated $2.5M): Naked Juice, Tostito's Organic, Tropicana Organic
    Kraft (Donated $2M): Boca Burgers and Back to Nature
    Safeway (Member of Grocery Manufacturers Association, which donated $2M):"O" Organics
    Coca-Cola (Donated $1.7M): Honest Tea, Odwalla
    General Mills (Donated $1.2M): Muir Glen, Cascadian Farm, Larabar
    Con-Agra (Donated $1.2M): Orville Redenbacher's Organic, Hunt's Organic, Lightlife, Alexia
    Kellogg's (Donated $791k): Kashi, Bear Naked, Morningstar Farms, Gardenburger
    Smucker's (Donated $555k ): R.W. Knudsen, Santa Cruz Organic
    Unilever (Donated $467k): Ben & Jerry's
    Dean Foods (Donated $254k): Horizon, Silk, White Wave
The OCA's million-plus network of consumers, along with the 5 million Californians who voted YES on 37 and the 90% of consumers nationwide who want mandatory GMO labeling, are gearing up for the next GMO labeling battles, in Washington State, Vermont, and Connecticut. The boycott is part of a strategy to force the parent companies of organic and natural brands to side with consumers, or risk losing their brand loyalty.
The Organic Consumers Association (OCA) is an online and grassroots non-profit 501(c)3 public interest organization campaigning for health, justice, and sustainability. The Organic Consumers Fund is a 501(c)4 allied organization of the Organic Consumers Association, focused on grassroots lobbying and legislative action.