Campaigners demonstrated this week outside a conference to mark the 10th anniversary of the European Food Safety Authority (EFSA), held at its headquarters in Parma, Italy. Farmers, NGOs, students and local activists gathered to denounce the industry-capture of our food safety system that EFSA plays a key role in.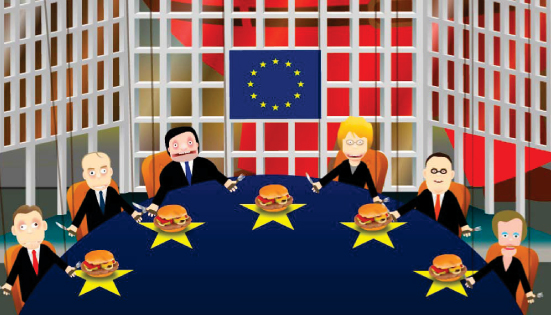 José Manuel Benitez from Spanish farmers organisation COAG said: "EFSA is not fulfilling its mandate to ensure European citizens safe food and safe farming environments. European farmers and peasants demand a radical shift in EFSA's modus operandi."
The conference is celebrating 10 years of "transparency, independence and scientific excellence" but the campaigners say that EFSA experts and members of its management board have frequently been shown to have a conflict of interest with the food and biotech industry.
They argue that even after 10 years, EFSA has not put in place the robust rules needed to effectively ban such conflicts of interest with industry.
Nina Holland (Corporate Europe Observatory) said: "We're standing on EFSA's doorstep in Parma to deliver our demands for radical change at the agency in order to really work for food and environmental safety. EFSA and the European Commission are celebrating EFSA's 10th year anniversary, but we think they better clean up their act and ban industry influence from food safety decisions."
Earlier this year the European Parliament earlier refused to approve EFSA's budget, and the European Court of Auditors called EFSA's independence policy 'inadequate'.
Campaigners also criticise EFSA's reliance on industry studies and data to form its scientific advice to the EU institutions.
Citizens and farmers gathered in the demonstration call for EFSA to be fundamentally reformed and presented demands for change, supported by a large group of European civil society networks and organisations, in the following areas:
1. Prevent conflicts of interest
2. EU laws should be overhauled so that independent bodies test substances, not industry itself
3. A code of scientific practice should be established
4. Improve transparency and accountability
5. Ensure wider participation
On Monday (12 November), farmers and citizens took part in a conference in Parma to discuss EFSA's longstanding problems and to consider possible alternative approaches.