In the face of accelerating gas and food prices, author Steven McFadden has now developed a greatly expanded edition of The Call of the Land: An Agrarian Primer for the 21st Century.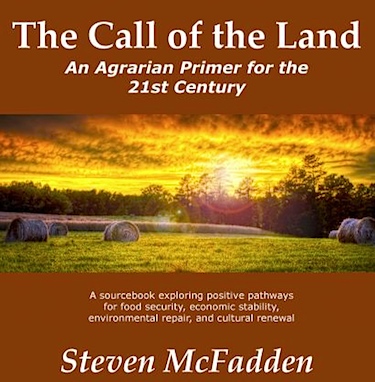 This book has been widely hailed as an outstanding outreach tool for existing farms, farmers markets, CSAs. food coops, and other sustainable enterprises. Community projects can use the book to enrich the understanding of participants and to deepen their commitment and their creative responses to the overall call of the land.
Charles Francis, Director of the Center for Sustainable Agricultural Systems at the University of Nebraska-Lincoln stated; "McFadden's call to action is clearly written and well referenced with a robust list of current websites and a bibliography for general reading on positive methods for resolving our food security challenge."
Food Systems Network NYC named the first edition of Call of the Land as one of the "best books of 2009." Now the 2nd edition is enriched with more than 100 additional positive proactive working models for families, neighborhoods, towns, cities and regions to respond to the urgent call of the land.
The Call of the Land – 2nd edition offers an effective way for people to respond to the changing economy and environment by learning about and becoming involved in local foods security. The book is loaded with positive models of ways people are meeting the challenge of caring for the land and providing an ample supply of clean food.
The Call of the Land gives voice to a swelling chorus of "millennial agrarians" who are working in backyards, neighborhoods, cities, suburbs, countryside, schools, churches, companies, and campuses to create a clean, secure, sustainable food system. Journalist Steven McFadden (BU 1975) is co-author of Farms of Tomorrow (1991), the first book on Community Supported Agriculture (CSA). He has written about the land and food for over 35 years, is a member of the Nebraska Sustainable Agriculture Society, and the board of directors for Open Harvest, Lincoln's long-established natural foods coop. He is the author of 12 non-fiction books, including Profiles in Wisdom, Farms of Tomorrow Revisited, Legend of the Rainbow Warriors, and Odyssey of the 8th Fire.
Author's blog: www.thecalloftheland.com
Reviews of the book: thecalloftheland.wordpress.com/reviews/
Sales page for the book: www.thecalloftheland.info/