Reinforcing earlier findings, a new systematic review published in Chemosphere finds the popular herbicide glyphosate and its formulations (glyphosate-based formulations-GBF) exhibit five out of the ten key characteristics (KC) of carcinogens (cancer-causing chemicals), Beyond Pesticides reported last week.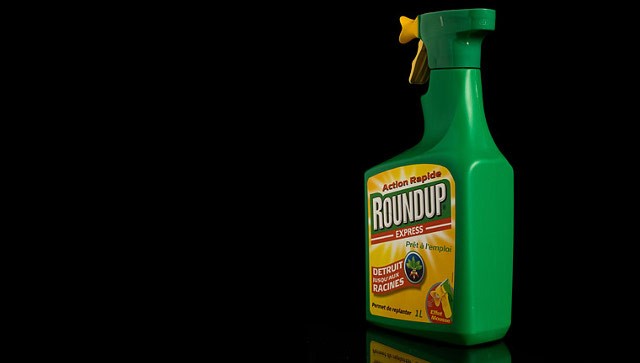 Specifically, glyphosate exhibits strong evidence of genotoxicity, epigenetic alterations (heritable changes in gene expression), oxidative stress, chronic inflammation, endocrine disruption, and disturbs gut microbiota implicated in lymphomagenesis (growth and development of lymphoma). Although organizations like the International Agency for Research on Cancer (IARC) designate glyphosate as a probable human carcinogen, and scientific literature supports the findings on these adverse effects purported by glyphosate, the chemical remains on the U.S. market in various formulations.
Glyphosate is the most commonly used active ingredient worldwide, appearing in many herbicide formulas, not just Bayer's (formerly Monsanto) Roundup®. The use of this chemical has been increasing since the inception of crops genetically modified to tolerate glyphosate over two decades ago.
The toxic herbicide readily contaminates the ecosystem with residues pervasive in food and water commodities. In addition to this study, literature proves time and time again that glyphosate has an association with cancer development, as well as human, biotic, and ecosystem harm. Therefore, advocates point to the need for national policies to reassess hazards associated with disease development and diagnosis resulting from or exacerbated by exposure to chemical pollutants. The study highlights, "Our findings strengthen the mechanistic evidence that glyphosate is a probable human carcinogen and provide biological plausibility for previously reported cancer associations in humans, such as non-Hodgkin lymphoma."
Using in vivo, ex vivo, and in vitro human and mammalian mechanistic studies, researchers compare exposure to glyphosate/GBF with little to no exposure counterparts for evidence of the ten KCs of carcinogens. All known human carcinogens have one or more of the ten KCs, and these mechanisms cause cancer through,
Electrophilic (an affinity towards electrons) or metabolic activation (KC1),
Genotoxicity (KC2),
Alterations in DNA repair, causing genome instability (KC3),
Inducing epigenetic changes (KC4),
Inducing oxidative stress (KC5),
Inducing chronic inflammation (KC6),
Immunosuppression (KC7),
Reducing receptor-mediated effects/endocrine disruption (KC8),
Immortalizing cancer cells (KC9),
Alterations in cell proliferation, death, or nutrient supply (KC10).
Researchers screened all in vivo, ex vivo, and in vitro studies of glyphosate/GBF exposure in humans/mammals, reporting any KC-related outcome available in PubMed before August 2021. The researchers used the selected studies to construct a matrix, analyzing the matrix in program R to determine the strength of evidence and quality assessments. Although only 175 of the 2,537 articles met inclusion criteria, the researchers extracted over 50,000 data points related to the aforementioned KC outcomes.
The results of the analysis find strong evidence for KC2, KC4, KC5, KC6, and KC8, limited evidence for KC1 and KC3, and inadequate evidence for KC7, KC9, and KC10. Specifically, genotoxicity (KC2) and endocrine disruption (KC8) from GBF have the strongest association with carcinogenicity. The reviewed studies demonstrate that the evidence of genotoxicity is stronger among humans than in animal studies, with GBF having a greater impact on both study groups than just glyphosate alone. Additionally, the review indicates glyphosate can alter hormone (endocrine) levels and receptor activity, with the estrogen receptors being most sensitive to glyphosate and GBFs.
Glyphosate Box

Glyphosate Residue Free Certification for Food Brands – Click Here

Test Your Food and Water at Home for Glyphosate – Click Here

Test Your Hair for Glyphosate and other Pesticides – Click Here to Find Our Your Long-Term Exposure
The results of the systemic review highlight an all too familiar issue. Despite these concerning data, evidence of widespread exposure to a carcinogen has failed to sway regulators at EPA, necessitating meaningful change by elected officials to reform pesticide law. Scientists highlight epidemiological evidence associating glyphosate with blood cancers like non-Hodgkin lymphoma and strong evidence of carcinogenicity in laboratory animal research brought on by genotoxicity (DNA damage) and oxidative stress. In 2015, the IARC Working Group demonstrated glyphosate has strong evidence of genotoxicity (KC2) and oxidative stress (KC5). However, recent studies providing additional data supports evidence of KC2 and KC5, as well as epigenetic changes (KC4), chronic inflammation (KC6), and endocrine disruption (KC8) regarding glyphosate and GBF. Thus, glyphosate presents evidence of all five KCs of carcinogens. Although there is limited or inadequate evidence for the remaining KCs, the review encourages further examination of the effects of glyphosate and other chemicals through all ten KCs and its relation to lymphoid cancers.
The study concludes, "Overall, the mechanistic evidence for glyphosate and GBFs possessing multiple key characteristics of carcinogens has become stronger since IARC's evaluation in 2015 and implicates several pathways by which these substances could induce cancer, such as lymphoma, in humans. […][O]ur understanding of glyphosate's effects using the KCs paves the way for exploring the intricate mechanisms underlying its potential pathway to lymphoma."
Cancer is one of the leading causes of death worldwide, with over eight million people succumbing to the disease every year. Notably, IARC predicts an increase in new cancer cases from 19.3 million to 30.2 million per year by 2040. Therefore, studies related to pesticides and cancer will aid in understanding the underlying mechanisms that cause the disease.