A federal lawsuit filed Wednesday on behalf of the National Black Farmers Association in the Eastern District of Missouri is calling for the removal of Monsanto's popular weedkiller Roundup from the market, Tri States Public Radio reported Thursday.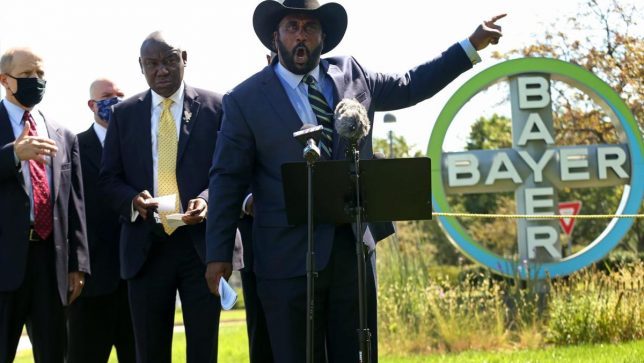 German biotech giant Bayer AG, which bought Monsanto two years ago, said in a statement that the new lawsuit has no basis and that its products are safe.
At a press conference Wednesday morning outside Bayer's Creve Coeur office, attorneys, activists and farmers chanted "Black Farmers Matter," and urged more relief for Black farmers who used Roundup.
Glyphosate Box

Glyphosate Residue Free Certification for Food Brands – Click Here

Test Your Food and Water at Home for Glyphosate – Click Here

Test Your Hair for Glyphosate and other Pesticides – Click Here to Find Our Your Long-Term Exposure
Virginia-based farmer John Boyd Jr. said during the event that he and other Black farmers were pigeonholed into using the product without proper warning from Monsanto about how to use it and the negative health effects they could incur. In June, Bayer agreed to pay nearly $11 billion to settle about 100,000 lawsuits claiming Roundup caused cancer. More than 25,000 plaintiffs chose not to settle their claims.
Boyd said many more are still at risk of developing health problems as a result of using the product. He's the president of the National Black Farmers Association, which represents about 109,000 farmers in 42 states, including some farmers in the St. Louis area.
"Every time money is on the table for these settlements, Black farmers have been left out. And that's why we're glad to have this legal team represent us so we can get some justice this time. Because we've been left out for far too long," he said.
Civil rights attorney Ben Crump is leading the litigation. He's also represented the families of Jacob Blake, Breonna Taylor and George Floyd — who were all shot by police this year.
St. Louis County NAACP President John Bowman threw his support behind the lawsuit Wednesday, saying it's a social justice issue.
"Black farmers have been trapped into using a dangerous product, and they are paying for it with their economic freedom, their health, and in some cases, their lives," he said.
"Not only are we dying from the vicious misconduct of police officers, but we're also dying from the vicious misconduct of greedy corporate owners who are willing to trash and create toxins in our community and to diminish the value of the heritage of Black farmers."
Chris Schnieders, a partner with Napoli Shkolnik, and St. Louis-based James Onder, founder of Onder Law, are also supporting the lawsuit. Onder represents the largest number of unsettled Roundup-related cases.
Read More Here: Tri States Public Radio