Two top international law firms are investigating claims on behalf of Bayer investors concerning whether or not certain of the German company's officers and/or directors have engaged in securities fraud or other unlawful business practices, related to the Monsanto takeover and following high profile Roundup weedkiller cancer cases.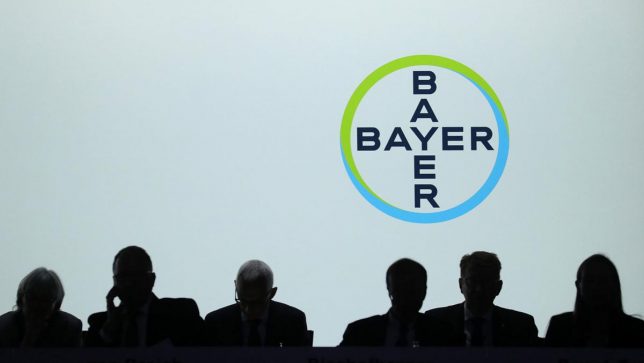 The legal announcement on Monday from Pomerantz LLP called on investors to join a class action case that will investigate Bayer's officers and/or directors.
Hagens Berman has also urged investors in Bayer who suffered $1 million or more in losses to submit their losses now for evaluation by their legal team. They stated that a securities fraud class action is pending, and certain investors may have valuable claims that would make them eligible to be a lead plaintiff.
Hagens Berman continued that documents revealed in trial show that if Bayer had indeed performed due diligence, it would have known of the great risk acquiring Monsanto truly threatened. "We're focused on investors' losses and proving Bayer knowingly misled investors about its knowledge or Roundup risks or claimed due diligence," said Reed Kathrein, the Hagens Berman partner leading the investigation.
The Pomerantz LLP announcement continued; "On August 10, 2018, a jury in the action Johnson v. Monsanto Co., No. CGC-16-550128 (Cal. Super. Ct., Cnty. of S.F.) (the "Johnson Case") found unanimously that the glyphosate-based Roundup weedkiller manufactured by Bayer's subsidiary Monsanto Company ("Monsanto") was a "substantial factor" in causing the plaintiff to develop non-Hodgkin's lymphoma and that Monsanto knew, or should have known, the risks associated with exposure to the chemical and failed to warn of this severe health hazard. The jury also found that Monsanto acted with "malice or oppression" and should be punished for its conduct. Accordingly, the jury ordered Monsanto to pay $39 million in compensatory damages and $250 million in punitive damages.
On this news, the price of Bayer ADRs declined $3.00 per ADR, or 11.28%, to close at $23.59 per ADR.
Then, on October 22, 2018, although the court in the Johnson Case reduced the award of punitive damages from $250 million to $39 million to match the compensatory damages awarded to the plaintiff, the court otherwise denied Monsanto's motion for judgment notwithstanding the verdict and Monsanto's motion for a new trial, and upheld the jury's verdict, ruling that "there is no legal basis to disturb the jury's determination that plaintiff's exposure to [glyphosate-based herbicides] was a substantial factor in causing his [non-Hodgkin's lymphoma]."
On this news, the price of Bayer ADRs declined $1.90 per ADR, or 8.64%, to close at $20.10 per ADR.
Finally, on March 19, 2019, a jury in the action Hardeman v. Monsanto Co., No. 3:16-cv-525 (N.D. Cal.) —the first federal Roundup cancer lawsuit to proceed to trial—issued a verdict on causation in phase one of the bifurcated trial, finding that plaintiff's "exposure to Roundup was a substantial factor in causing his non-Hodgkin's lymphoma."
On this news, the price of Bayer ADRs declined $1.82 per ADR, or 9.25%, to close at $17.85 per ADR."
In late June Bayer-Monsanto announced that the company will make a total payment of $10.1 billion to $10.9 billion (€9.1 billion to €9.8 billion) to settle the non-Hodgkin's Lymphoma Roundup litigation in the U.S.. Roundup is the most sold glyphosate-based herbicide in the world.
Glyphosate Box

Glyphosate Residue Free Certification for Food Brands – Click Here

Test Your Food and Water at Home for Glyphosate – Click Here

Test Your Hair for Glyphosate and other Pesticides – Click Here to Find Our Your Long-Term Exposure
The settlement covers approximately 75% of the current Roundup litigation involving approximately 125,000 filed and unfiled claims overall. The details of the settlement are still being negotiated.