The Detox Project's Glyphosate Residue Free certification for food and supplement products is growing fast in the U.S. and Canadian markets and has now received international support from SGS, the world's leading inspection, verification, testing and certification company.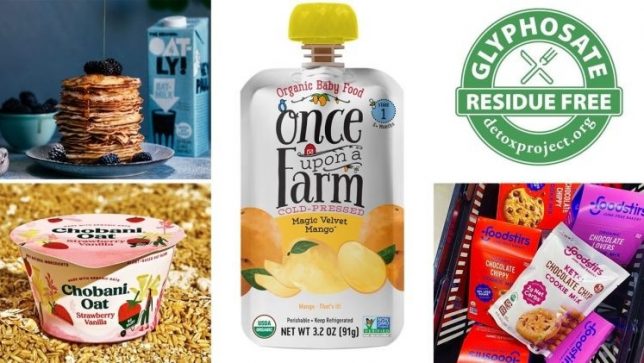 In more excellent news for the booming Standard, The Detox Project announced Monday that SPINS, the leading provider of data and insights for the natural, organic and specialty products industry, will now be providing market data for Glyphosate Residue Free certification.
Some iconic brands have also joined the Glyphosate Residue Free boom recently including Chobani, PURIS (main suppliers of Beyond Meat), Once Upon A Farm and Organifi. Over 70 brands and 1500 products are now certified.
More Coverage in The News:

Reuters: SGS ramps up testing for Roundup residue amid Bayer lawsuits

Food Navigator USA: Chobani, PURIS, Once Upon a Farm, embrace Glyphosate Residue Free certification … use of glyphosate as desiccant dropping, says The Detox Project
Glyphosate is the most used herbicide in the world; its use has increased sharply over the last two decades with the introduction of GMO crops and pre-harvest spraying (desiccation) on some conventional crops. However, the World Health Organization's International Agency for Research on Cancer (IARC) has classified glyphosate as "probably carcinogenic to humans" and linked it to Non-Hodgkin's lymphoma, whilst the California Environmental Protection Agency has added glyphosate to the Prop 65 list of carcinogenic chemicals. A growing number of countries are banning its use.
SGS Laboratories Across Three Continents Approved to Provide Glyphosate Residue Free Testing
The Detox Project has approved SGS's state-of-the-art, ISO/IEC 17025 accredited laboratories across Europe, North America and Asia. The following laboratories are included in the program: Germany (Berlin), Turkey (Istanbul), Portugal (Lisbon), Ukraine (Odessa), USA (Brookings/SD), Canada (Vancouver), India (Chennai). South Korea (Uiwang) and Vietnam (Ho Chi Minh) are now approved to provide testing to achieve certification against The Detox Project's Standard; with laboratories in Asia (Colombo and Taipei) and South America (Lima) expected to secure approval soon.
Anna Theil-Gangl, SGS Vice-President for Global Food Compliance & Analytics, said: "Through our worldwide network of laboratories, our skilled technicians are best placed to develop and deliver the highest standards of food testing and certification services. The Detox Project is working hard to protect consumers by encouraging transparency in the food and supplement industries about toxic chemicals and we look forward to supporting them in their ambitions."
SPINS Includes Glyphosate Residue Free Data to Track Certification Growth
SPINS continues to expand the depth of reporting as it relates to certifications.  Brands, Shoppers, and Retailers view certifications as a trusted source which support decisions along the consumer path to purchase.
"Our mission is to inform and support health and wellness needs of shoppers, brands and retailers by providing them with a full spectrum of data insights based on certifications, nutrition and ingredient analysis thus responding to lifestyle and diet preferences, needs and conditions. With continuing growth of the focus on health, The Detox Project's Glyphosate Residue Free certification is a noticeable component impacting shoppers' decisions." said Irina Mazur, President of SPINS Product Intelligence.
The Detox Project Expands Glyphosate Residue Free Certification Globally
Glyphosate Residue Free certification has been growing fast and over 70 brands and 1500+ products are now certified.
In the next stage of development, The Detox Project, which owns the certification, is targeting international markets in Europe, Asia and Oceania as well as continuing the exciting development in North America.
The Detox Project's Director, Henry Rowlands, stated Monday that "The speed of growth of the Glyphosate Residue Free market has even shocked us! We are now welcoming iconic brands on board, as well as gaining international testing assistance from one of the best in the business – SGS. This is a huge step forward for consumers, brands and retailers who appreciate and support the development of transparency in the food and supplement industries globally."
More information on Glyphosate Residue Free certification: detoxproject.org/certification/glyphosate-residue-free/
List of Certified Products: detoxproject.org/certification/glyphosate-residue-free/certified-products/