This month, the Thai government moved to ban some toxic chemicals out of concern for the health of its residents and environment. In response, U.S. Department of Agriculture (USDA) Undersecretary Ted McKinney sent a document to Thailand's Prime Minister Prayuth Chan-ocha pushing back on their plan.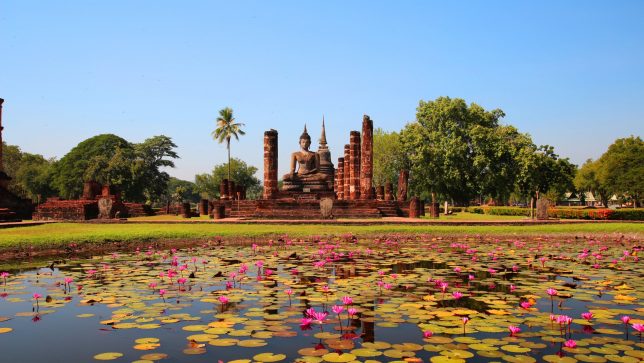 Update: The ban on glyphosate was changed later in 2019 from a ban to a restriction on use after the pressure from the U.S. government.
After powerful and sustained activism from local advocacy groups such as BioThai, the Thai government decided to upgrade glyphosate, chlorpyrifos, and paraquat from Type 3 toxic substances to Type 4, meaning these chemicals will no longer be allowed to be produced, imported, or possessed in the country.
Witoon Lianchamroon, Director of BioThai, says glyphosate and paraquat "contaminate our water, the soil, and some species like crab or fish or frog. These two main herbicides cover around half of the total pesticide use in the country and they cause a lot of problems."
The ban was approved by the National Hazardous Substances Committee, made up of 29 experts in the field, on October 22. Beginning December 1, the ban will go into effect and residents will be asked to turn in leftover products to the government to be destroyed. While the ban doesn't include agricultural products, Thai farmers who oppose the change are asking that Thailand also embargo imports of crops from countries that allow the chemicals – such as the U.S.
"Should a ban be implemented, it would severely impact Thailand's imports of agricultural commodities such as soybeans and wheat," wrote Mr. McKinney.
According to USDA data, in 2018 the US exported $593 million worth of soybeans and $180 million of wheat to Thailand. Mr. McKinney asked Thailand to instead maintain the current maximum residue limits and postpone the ban before "fully considering the scientific evidence" regarding – particularly – glyphosate. The chemical company Bayer, which now owns Monsanto, currently exports glyphosate-based products to Thai farmers.
Glyphosate Box

Glyphosate Residue Free Certification for Food Brands – Click Here

Test Your Food and Water at Home for Glyphosate – Click Here

Test Your Hair for Glyphosate and other Pesticides – Click Here to Find Out Your Long-Term Exposure
The World Health Organization's International Agency for Research on Cancer (IARC) determined that glyphosate is a "probable carcinogen" in 2015. A study published earlier this month by an international team of researchers found the chemical had the potential to induce breast cancer when combined with other risk factors. US courts are also finding glyphosate guilty, awarding millions of dollars to individuals who trace their cancer to the use of the chemical.
Despite all this evidence of harm, the US government remains internationally adamant in its defense of toxic chemicals. U.S. Secretary of Agriculture Sonny Perdue was vocal on behalf of Bayer in April when Vietnam began its process of banning glyphosate due to health concerns in April. President Donald Trump urged Columbia to lift its restrictions on glyphosate aerial spraying in August, reportedly offering more funding if the aerial sprays were allowed to resume.
An official in the pesticide regulatory division at the Thai Ministry of Agriculture and Cooperatives told Bloomberg Environment that Thailand is moving toward organic farming and must destroy the chemicals because they are, "not safe, not healthy."
Other Thai officials also stand by the ban. Public health minister Anutin Charnvirak told Reuters, "Our job is to take care of the people's health." Mananya Thaiset, deputy minister of agriculture, said, "It's not right to force us to take what we don't want."