Dewayne "Lee" Johnson has led what many might call an unremarkable life. The 46-year-old father and husband spent several years working as a school groundskeeper and spending free time teaching his two young sons to play football. But this week he takes center stage in a global debate over the safety of one of the world's most widely used pesticides as he takes Monsanto to court on claims that repeated exposure to the company's popular Roundup herbicide left him with terminal cancer.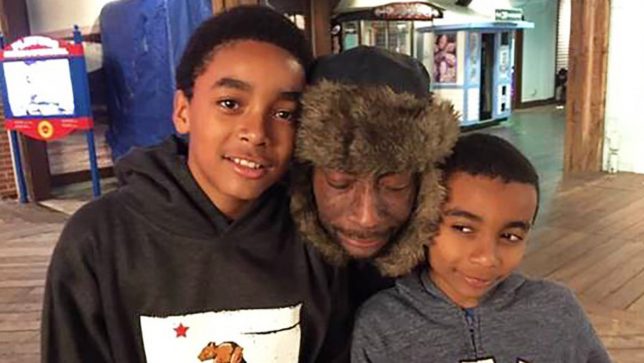 Source: usrtk.org/
San Francisco Superior Court Judge Suzanne Ramos Bolanos was assigned Monday to oversee the trial, and jury selection began Thursday, June 21, with opening statements possible by June 27. The courtroom showdown could last three to four weeks, lawyers involved estimate, and will shine a spotlight on decades of scientific research and internal Monsanto documents that relate to the testing and marketing of Monsanto's flagship herbicide and the active ingredient, a chemical called glyphosate.
Though Johnson is the lone plaintiff in the lawsuit, his case is considered a bellwether for roughly 4,000 other plaintiffs also suing Monsanto over allegations that exposure to Roundup caused them or their loved ones to develop non-Hodgkin lymphoma (NHL). Another case is scheduled to go to trial in October in St. Louis, Missouri.
The lawsuits, which have been piling up in court dockets around the U.S., not only challenge Monsanto's position that its widely used herbicides are proven safe, but they also assert that the company has intentionally suppressed evidence of the risks of its weed killing products, misleading both regulators and consumers in a dangerous deception.
The litigation, proceeding both in federal and state courts, began after the International Agency for Research on Cancer (IARC) classified glyphosate—the active ingredient in Roundup—as a probable human carcinogen in March 2015. The IARC classification was based on years of published, peer-reviewed scientific studies analyzing glyphosate and glyphosate-based herbicides.
Monsanto and allies in the agrochemical industry have blasted the litigation and the IARC classification as lacking in validity, countering that decades of safety studies prove that glyphosate does not cause cancer when used as designed. Monsanto has cited findings by the U.S. Environmental Protection Agency (EPA) and other regulatory authorities as backing its defense. The company can also point to an EPA draft risk assessment of glyphosate on its side, which concluded that glyphosate is not likely carcinogenic.
"Glyphosate-based herbicides are supported by one of the most extensive worldwide human health and environmental effects databases ever compiled for a pesticide product," Monsanto states on its website. "Comprehensive toxicological and environmental fate studies conducted over the last 40 years have time and again demonstrated the strong safety profile of this widely used herbicide."
Glyphosate represents billions of dollars in annual revenues for Monsanto, which became a subsidiary of German-based Bayer AG on June 8, and several other companies selling glyphosate-based herbicides. Monsanto brought the pesticide to market in 1974 and the weed killer has been used prominently for decades by farmers in food production and by municipalities to eradicate weeds in public parks and playgrounds, and by homeowners on residential lawns.
Monsanto had sought to delay the Johnson case, just as it has sought to delay and/or dismiss the others brought against it. But the trial was expedited because he is not expected to live much longer after being diagnosed in 2014 with a form of non-Hodgkin lymphoma called mycosis fungoides.
A Death Sentence
According to court records, Johnson worked as a groundskeeper for the Benicia Unified School District for many years and applied multiple treatments of Monsanto's herbicides to the San Francisco-area school properties from 2012 until at least late 2015, including after he was diagnosed with cancer in August 2014. His job entailed mixing and spraying hundreds of gallons of glyphosate-based herbicides around school properties. He used various Roundup products, but mostly Roundup PRO, a highly concentrated version of the weed killer. After developing a skin rash in the summer of 2014 he reported to doctors that it seemed to worsen after he sprayed the herbicide. In August of that year he was diagnosed with a type of lymphoma but continued his work until 2015 when he underwent several rounds of chemotherapy only to learn in September 2015 that he likely had but 18 months to live.
In a deposition taken in January, Johnson's treating physician testified that more than 80 percent of his body was covered by lesions and his diagnosis continued to be terminal. Still, Johnson has improved since starting a new drug treatment and plans to attend some of the trial if possible, his attorneys said.
Johnson has not led an unblemished life; Monsanto uncovered an aggravated assault charge against him from the early 1990s, along with a misdemeanor weapons charge and a domestic abuse complaint against the mother of his oldest child. The company elicited deposition testimony from Johnson that he failed tests for pesticide applicators three times, and sprayed the pesticide without a certified applicator license. Johnson wore proper protective gear over his clothing but was accidentally drenched in the pesticide at least once when mixing it.
Monsanto's lawyers will argue other factors could be to blame for Johnson's cancer, and that its weed killer played no role.
Johnson's attorneys have shrugged off any issues regarding Johnson's personal behavior or other potential causes for his disease, and say in court filings they will offer evidence at trial that Monsanto "for decades, engaged in a shocking degree of scientific fraud and manipulation of the scientific literature with respect to Roundup" to cover up the evidence that it does cause cancer.
The trial evidence will include information that Monsanto ghostwrote articles relied on by the EPA, IARC and California's environmental regulators; rewarded employees for ghostwriting; and actively suppressed the publication of information that revealed the harm associated with glyphosate and Roundup. Johnson's attorneys say internal Monsanto documents show extensive "manipulation" of the scientific record, and clearly improper and fraudulent interactions with regulators.
Johnson's attorneys intend to call 10 current and former Monsanto employees to the stand.
"We're going to get them here. We have the goods," said Brent Wisner, who is one of three attorneys representing Johnson at trial. "If the evidence we have is allowed in, Monsanto is in trouble."
Lead Lawyer Out
Wisner was only brought in to help try to case within the last few weeks after lead attorney Mike Miller suffered a near-fatal accident while kite surfing and remains too severely injured to try the case. Wisner's role is key as he is set to deliver both the opening and closing statements for Johnson's case in Miller's absence.
Monsanto filed a motion on June 18 seeking to exclude Wisner from trying the case, however, claiming he has been acting as a "PR man," and lobbyist against glyphosate, particularly in Europe, where glyphosate has been under intense regulatory scrutiny. Monsanto also cited Wisner's release in August 2017 of hundreds of pages of internal Monsanto documents turned over in discovery that the company had wanted to keep sealed, a tactic that earned Wisner a rebuke from the judge in the federal multidistrict litigation pending against Monsanto. Monsanto's lawyers argue that the internal corporate communications have been intentionally presented out of context by Wisner and other plaintiff's attorneys to make it appear as though the company engaged in deceptive practices when it did not.
Wisner's activities put him in violation of a California "advocate-witness" rule, Monsanto contended in its filing.
In addition to trying to exclude the lawyer, Monsanto is seeking to exclude reams of evidence, including internal emails written by its scientists, arguments that it deceived the EPA, evidence of fraud committed by laboratories, and testimony from Johnson's expert witnesses.
Judge Bolanos will hear arguments on Wednesday regarding that motion and more than a dozen others regarding what evidence will and will not be allowed at trial.
Both sides say the case and the outcome are important in a larger sense. If the jury finds in favor of Johnson it could encourage additional litigation and damage claims some of the lawyers involved estimate could run into hundreds of millions of dollars. If the jury sides with Monsanto, other cases could be in jeopardy. Additionally, a victory for Monsanto in this first case could ease regulatory questions dogging the company.
As for Johnson, he will try to attend some of the trial, and will testify, but will not likely be there for it all, said Wisner. Johnson's wife, Araceli Johnson, will be called to testify, as will two of his co-workers and his doctors.
"Right now he's on borrowed time. He's not going to come to most of the trial," said Wisner. "The guy is going to die and there is nothing he can do about it. It's unbelievably horrible."